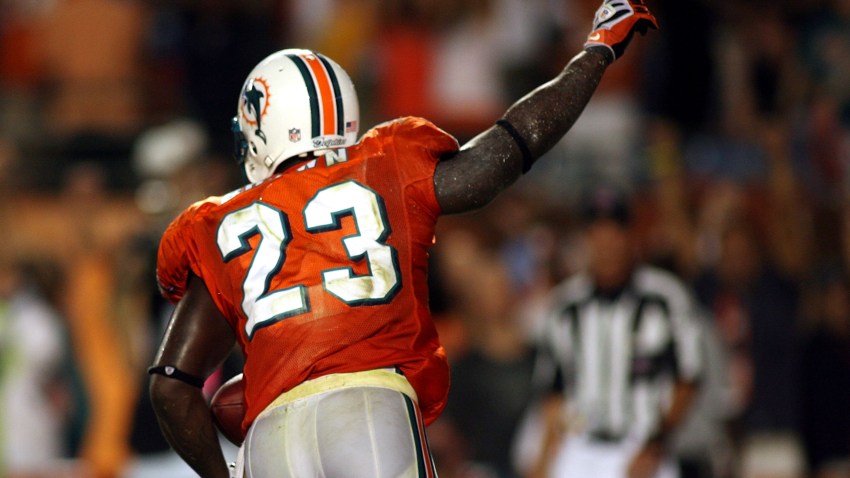 The undefeated magic orange jerseys that have yet to fail Miami will be deployed once again on Sunday night against the Jets.
Apparently, though, uniforms the color of a stuck sun just aren't enough orange for the Dolphins. The team is also encouraging fans to wear orange, will light several area landmarks with an orange glow, and will hand out orange Budweiser "rally towels" at the sold-out game.
All the better to smother Jets fans wi -- oh, we mean, "display team spirit!" The objective is a so-called "Orange Offensive" in honor of the Dolphins' 45th season, and, apparently, all things round and ocherous.
As if there couldn't be more pressure on the surprisingly 2-0 Dolphins, who were already tasked with defending their home turf against their most hated rival, and doing it with an offense so far incapable of scoring more than one touchdown per game.
Now they must win to keep us all from looking like mutating gourds on national television, and preserve the power of clothing that once made A.J. Feely a hero.
But that's the fun of football, and dressing like solar flares will certainly distinguish Dolphins fans from the hideous Jets, whose colors are green and white and whine and awful.
If all goes right, Sun Life stadium will look less like a football game and more like one giant, victorious, gleaming pumpkin plopped right in the middle of Miami Gardens.
And if all goes even more right, Rex Ryan will choke on it.