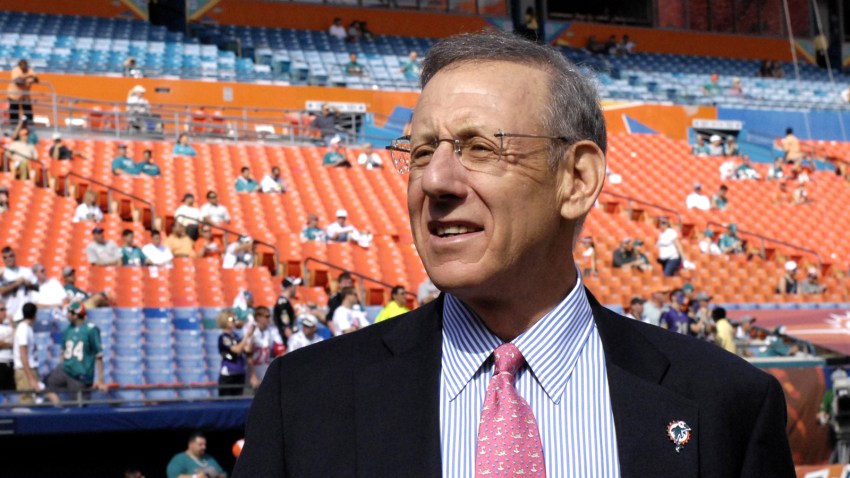 Uh-oh. Like Pavlov's dogs, we've been conditioned to recoil in horror when the Dolphins say they're set to make a "major announcement" -- especially after finding out out owner Stephen Ross initially approached Jon Bon Jovi with the minstrel-jester role that eventually went to Jimmy Buffett.
And like normal dogs, we're now automatically prepared to take a verbal dump on whatever newfangled promo Ross is cooking up.
Livin' on a prayer: that's our ability to stomach the Margaritavillian marketing efforts of late.
But this one may not be so painful. Tomorrow's announcement from Fins CEO Mike Dee is set to take place in Estero alongside Lee County Commission chairman Ray Judah and former Dolphins Twan Russell and Nat Moore. The hoopla is said to concern "the west coast of Florida communities," so at least residents of the 305 are off the fish hook for whatever it may be.
A fan's mind can't help but wonder at the possibilities. Sticking a flag into the earth and claiming southwest Florida for the conga? Re-naming Fort Myers "Parcellsville?" Painting Alligator Alley orange and teal? That would be kinda cool, actually. We hear it's for sale anyway.
But considering that Russell is now director of the Dolphins' Youth and Community Programs, where Moore also helps out, it's likely they're taking a cue from Randy Shannon's Magical Mentoring Bus Tour and attempting to grow Fins fans from the ground up over in west Florida, the no man's land between the Bucs' Raymond James Stadium and The Stadium Formerly Known As Joe Robbie.
Children of southwest Florida, keep in mind: if youth clinic partnerships don't get you, the rhythm will. Give in to Mike Dee now and get it over with. We can only withstand so many publicity ploys.
Janie Campbell's mind is reeling...Slippery When Wet Tourjacket Stadium...Jersey Docks Field...Hairspray Lagoon -- and here she thought "Land Shark" was hokey. Her work has appeared in irreverent sports sites around the Internet.
Copyright FREEL - NBC Local Media