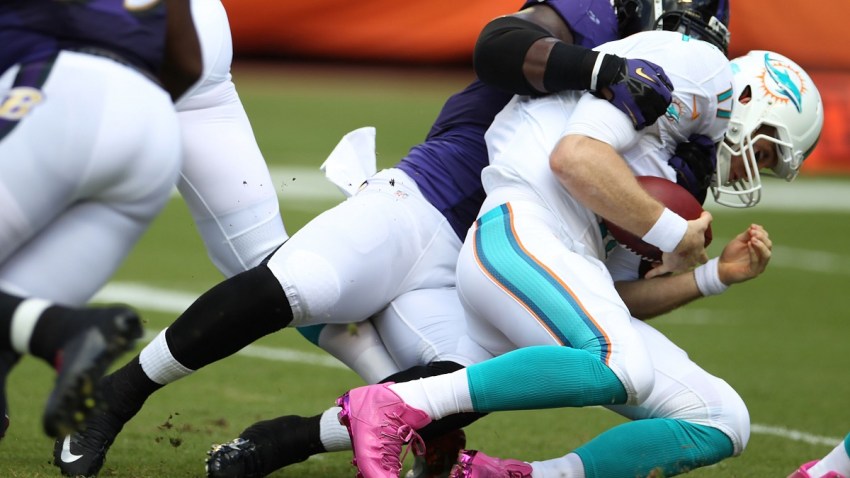 The Miami Dolphins talked all week about improving on the offensive line and putting a stop to the parade of opposing defenders waltzing into the backfield and sacking QB Ryan Tannehill. But on Sunday, it was the same old story.
Tannehill was sacked 6 times in the 26-23 loss to the Baltimore Ravens, bringing the Dolphins' total up to 24 sacks through the first 5 games of the season. They gave up 37 sacks in 2012, and could reach that milestone by the midway point this season.
"It's hard to function offensively when you're going backward," coach Joe Philbin said after the game. "We're going to fix the problems we have. We're not going to sweep them under the rug."
If that sounds familiar, it is because the Dolphins have vowed to reduce their sack average after every game this season, win or lose.
"We knew coming in they had a good pass rush," Tannehill said. "Especially when you get behind 10, we knew they were going to be teeing off. As a unit we just all need to step up and do everything we can to handle the pass rush."
To put in perspective just how much these sacks are costing the Dolphins, consider this: two plays before kicker Caleb Sturgis attempted a potential game-tying field goal from 57 yards out, Tannehill was sacked for a five-yard loss. Might he have made a 52-yard attempt instead? It is impossible to say, but his odds would have undoubtedly been better.
Tannehill is getting sacked on 11.6% of his drop-backs (one out of every eight). Only 17 times in NFL history has a quarterback started more than 10 games and been sacked on more than 12% of his drop-backs (three of which came in the last decade). The NFL record for most times sacked in a single season is held by David Carr, who was sacked 76 times in the 2002 season with the Houston Texans. Tannehill is on pace to be sacked 77 times in 2013.
On Wednesday, Miami guard Richie Incognito said "everybody should be fired — the whole offensive line," if the Dolphins give up 72 sacks on the season (which was their pace going into Sunday).
"That's atrocious. If you get sacked 72 times there's obviously a major problem, and I don't think anybody could handle that many sacks." Center Mike Pouncey agreed, saying of Tannehill, "If he keeps getting hit like that, he won't last too long."
With a bye next week, general manager Jeff Ireland will doubtless scan the waiver wire and unemployment rolls for any lineman who could possibly help out. But chemistry and knowing a team's offensive system are important to a high-functioning offensive line, so the odds of a new guy getting plugged in and fixing everything are between slim and none.
"It's something that we are determined to correct," offensive coordinator Mike Sherman said Wednesday. "To make it through this season and have the success we want to have, we certainly have to minimize our exposure to sacks — not just for the health of our quarterback, but because of the negativity it creates in the context of the game."
Copyright AP - Associated Press