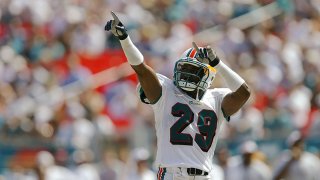 The Miami Dolphins are reportedly set to bring back one of the team's star defensive backs from the late 1990s and early 2000s to lead the unit in the 2022 season.
ESPN's Adam Schefter reported Wednesday the team will hire Sam Madison, who played with the team for nine seasons from 1997 to 2005, as the next defensive backs coach.
Miami's new head coach, Mike McDaniel, is expected to make the hire after current DB coach Charles Burks is expected to take a similar job with the Cincinnati Bengals according to Schefter.
Stay informed about local news and weather. Get the NBC 6 South Florida app for iOS or Android and pick your alerts.
The 47-year-old Madison, who grew up in Tallahassee and played his college football at Louisville, was a four time Pro Bowler and four time All-Pro during his time with the Dolphins. He finished his career with three seasons playing for the New York Giants, where he won Super Bowl XLII.
Madison has spent the last three seasons as a secondary coach for the Kansas City Chiefs, where he was won Super Bowl LIV.
Editor's note: A previous version of this story incorrectly stated Madison attended Florida A&M for college.He attended Florida A&M's Developmental Research High School before attending the University of Louisville.