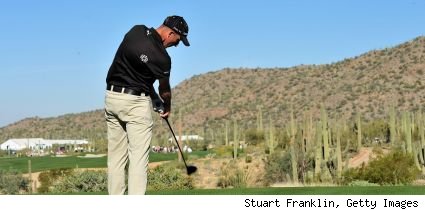 It was supposed to be the tournament Tiger Woods came back in, but it quickly became the tournament in which Geoff Ogilvy staked his claim as best golfer in the world.
The Australian, who won the Mercedes Championship earlier this season, triumphed over Paul Casey in the finals of the Accenture Match Play Championship, 4-and-3, to quietly become the best golfer in the game that nobody is talking about.
Geoff Ogilvy Wins Accenture Match Play originally appeared on Golf FanHouse on Sun, 01 Mar 2009 17:29:00 EST . Please see our terms for use of feeds.
Permalink | Email this | Linking Blogs | Comments
Copyright FANHO - FanHouse