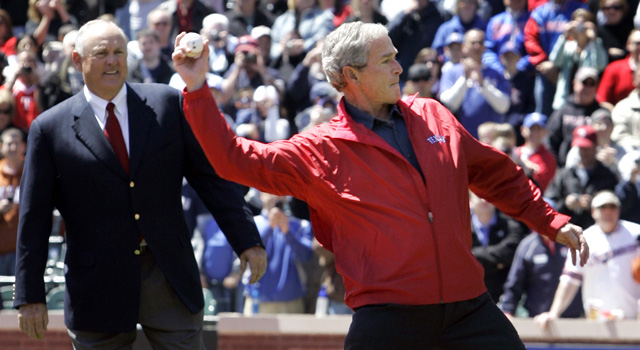 Former President George W. Bush wound up his arm windmill-style twice Monday, then fired a high strike to help the Texas Rangers start the season.
In his first big appearance locally since moving to Dallas from the White House, Bush received a standing ovation and overwhelming cheers from a crowd of about 40,000 after the public address announcer said to "welcome home the 43rd president."
"Hopefully the bleeding heart liberals will keep the boos to a minimum," said Ranger fan Jeff Conkwright just before Bush took the field. Any fears that the former president would be booed were put to rest quickly. "He's a great President he served us well and we are excited he's here," added fan Allison Stanley.
Bush kept his distance from the media, when asked about his warm reception he simply replied, "I'm honored!" It was clearly no coinsidence that Bush choose to make his first major public appearence since leaving office on his home turf.
Bush, was the team's managing general partner from 1989 until being elected governor of Texas in 1994, acknowledged the cheers as he made his way to the base of the mound.
Hall of Famer Nolan Ryan, now the team's president, was a few steps behind to deliver the ball. Bush threw to Josh Hamilton, the team's star outfielder. Afterward, the two shook hands and Hamilton pulled out a pen to get the president's signature on the ball.
Copyright AP - Associated Press