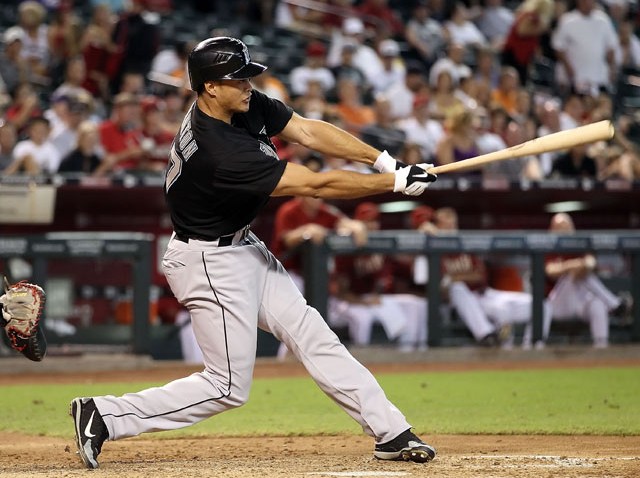 PHILADELPHIA -- Roy Oswalt found a way to win without dominant stuff.
Oswalt pitched seven effective innings, helping the Philadelphia Phillies beat the Florida Marlins 7-4 Monday to split their day-night doubleheader.
Placido Polanco had a double, triple and two RBIs and Chase Utley also drove in a pair as the Phillies moved within a half-game of NL East-leading Atlanta.
In the opener, Adalberto Mendez pitched one-hit ball for six scoreless innings before injuring himself in his major league debut, and the Marlins won 7-1.
Oswalt (11-13) allowed four runs and six hits, striking out seven. The three-time All-Star is 5-1 since joining the Phillies in a trade with Houston on July 29. Philadelphia is 7-1 in his starts.
"First time I've won giving up four runs," Oswalt said. "It's nice."
Oswalt came in with the lowest run support of any starter in the majors at 2.85 per outing. He was 0-5 in five starts when giving up four or more runs.
Mike Stanton, Hanley Ramirez and Cameron Maybin each homered off Oswalt, who gave up just one run in his previous 21 1-3 innings.
Brad Lidge pitched a scoreless ninth for his 21st save in 26 chances.
After scoring only nine runs in their last four games, the Phillies put up five against Anibal Sanchez (11-9) in the second to take a 5-1 lead.
"It's just been the inconsistency of our offense," manager Charlie Manuel said.
Carlos Ruiz walked on four pitches with the bases loaded to force in the first run. After Oswalt flied out to shallow right, Shane Victorino hit an RBI single to right that made it 2-1. Stanton nailed Domonic Brown by several feet trying to score on the hit.
Polanco then ripped a two-run double down the left-field line and Utley's RBI single made it 5-1.
Ramirez hit a two-run drive that just cleared the wall in left-center to cut it to 5-3 in the third. Maybin connected in the fifth to get the Marlins within 5-4. Stanton crushed one into the second deck in left to give Florida a 1-0 lead in the second.
Utley had an RBI single and Raul Ibanez doubled in a run to extend Philadelphia's lead to 7-4 in the fifth.
Mendez (1-0) left the first game in the seventh after hurting his right quadriceps running to first base on a single. He slowed down and hobbled to the bag before he was helped to the dugout.
"I'm fine. It was just a cramp," Mendez said. "I've never had that happen before."
Mendez collected three souvenir balls from his first game.
"First win, first strikeout and first hit," he said proudly, looking at the balls in his locker.
The Phillies, held to one hit three times already this season, finished with three overall.
Stanton and Chad Tracy homered and Dan Uggla drove in three runs for Florida. Marlins rookie Logan Morrison, hit in the face by a foul ball from teammate Emilio Bonifacio while in the on-deck circle Sunday, went 1 for 4 and scored a run.
Mendez struck out six, walked two and hit a batter with a pitch. The 28-year-old righty was 5-5 with a 3.98 ERA between Double-A and Triple-A before getting called up after seven seasons in the minors. He had just 20 starts, including nine this year, in 350 career appearances.
"He was throwing strikes and attacking the hitters," Marlins manager Edwin Rodriguez said. "Everybody was wondering about him. Then after the third inning, they were saying, 'This kid's for real."'
Vance Worley (0-1) allowed two runs and six hits, striking out five in five innings in his first career start for Philadelphia. The right-hander was 10-7 in the minors this year, and pitched a scoreless inning in his only previous appearance with the Phillies.
He might have earned himself another shot if the Phillies decide to replace the struggling Kyle Kendrick in the rotation.
"Hopefully, I get another opportunity," Worley said.
Jayson Werth's RBI single in the ninth prevented Philadelphia's 12th shutout.
Uggla's two-out single in the first gave Florida a 1-0 lead. He added a two-run double in the ninth.
Tracy put the Marlins up 2-0 in the second with his first homer since last September with Arizona. Tracy, who hit 47 homers from 2005-06 for the Diamondbacks, went 95 at-bats without going deep.
Stanton's two-run shot off Chad Durbin made it 4-0 in the eighth.
Copyright AP - Associated Press