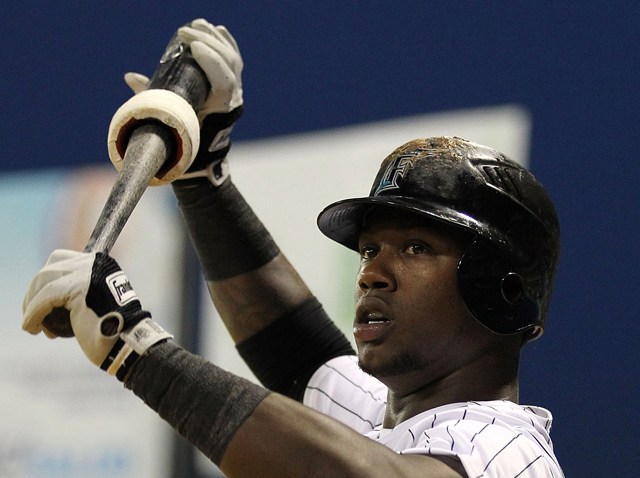 Hanley Ramirez used both his offensive and defensive skills to help the Florida Marlins get a much needed win.
Chad Tracy singled home Ramirez with the winning run in the 10th inning to help the Marlins beat the Washington Nationals 1-0 on Tuesday night and break a three-game losing streak.
Ramirez singled with one out off reliever Drew Storen, then stole second. After Gaby Sanchez drew a walk, Tracy singled to left.
Roger Bernadina's throw was on target, but Ramirez slid under the tag attempt by catcher Ivan Rodriguez, who argued the call vehemently with home plate umpire Jim Wolf. Rodriguez later admitted that Ramirez was safe.
"I got in there," Ramirez said. "Jim made an unbelievable call. He got it right."
It was the ninth walk-off win for the Marlins this season.
The Marlins were fired up after Washington's Nyjer Morgan was involved in a violent home plate collision with catcher Brett Hayes in an unsuccessful attempt to score in the top of the 10th. With runners on first and second and one out, Adam Kennedy hit a grounder to second baseman Emilio Bonifacio, who flipped it to shortstop Ramirez for the force out at second. Morgan attempted to score from second on the play. Ramirez threw home and Morgan, who might have scored had he slid into home, instead collided with catcher Brett Hayes. Hayes held onto the ball and Morgan was called out. Hayes remained on the ground for a couple minutes, still holding onto the ball. Hayes received treatment on his left shoulder after the game.
"He likes to do that and it's not good," Ramirez said. He was referring to Morgan's actions last Saturday when he chose to collide with Cardinals catcher Bryan Anderson, who didn't have the ball, and forgot to touch the plate. Morgan was benched by Nats manager Jim Riggleman the next day.
"It definitely sparked something in us," Tracy said. "We were upset because we saw Hayes on the ground hurting."
Morgan didn't think he did anything questionable.
"It's just one of those hard plays," Morgan said. "The ball beat me there and I just tried to jar the ball loose."
Clay Hensley (3-4) picked up the victory for Florida. Storen (3-3) took the loss in a game that featured stellar pitching performances by starters Anibal Sanchez and Jordan Zimmermann.
Zimmermann allowed just one hit in six innings -- a double by Gaby Sanchez to lead off the second. He then retired the next 15 batters before leaving after throwing 86 pitches. Zimmerman struck out a career-high nine.
Tuesday was Zimmermann's second start since being recalled from Triple-A Syracuse on Aug. 26. He missed 12-plus months following Tommy John surgery after being named the Nationals' 2008 Minor League Pitcher of the Year.
I kept the ball down today. I actually got some fastballs inside," Zimmermann said. "My arm felt good. This is probably the best I've felt in a long time."

Washington said that pitcher Stephen Strasburg will undergo Tommy John surgery to repair a torn ligament in his right elbow on Friday. Strasburg suffered the injury on Aug. 21.
"He just has to work hard like he's been doing his whole career," Zimmermann said. "He just has to grind it every day and keep his head up. The first couple of months are tough but once you start doing normal activity, like throwing a baseball, time really flies. You're going to have some highs and some lows. He just has to roll with it."
Anibal Sanchez matched Zimmermann, allowing just three singles in seven innings while striking out seven.

Copyright AP - Associated Press