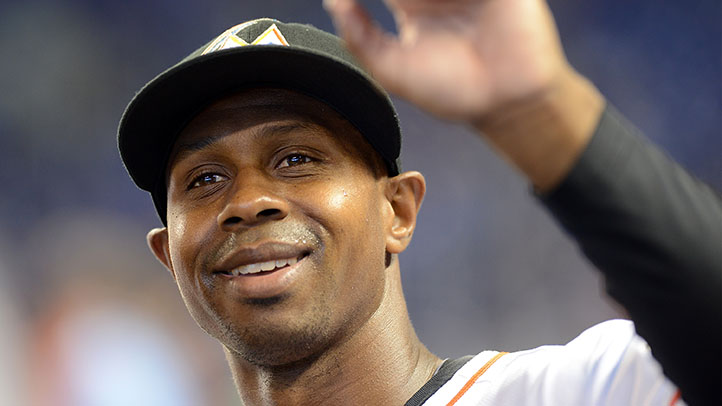 Juan Pierre who was part of the 2003 World Series champion Florida Marlins retired from Major League Baseball on Friday.
Pierre or "JP" as he is known around the game was known for his work ethic as much as his athletic ability. Pierre was often the first man at the ballpark and the last man to leave. Whether it was sprints around the field or bunting practice, the outfielder was always looking to stay busy and improve.
Accolades poured in from all around baseball on Friday after Pierre's announcement. Former teammates, coaches and even opposing players had only kind things to say about the outfielder.
@JPBeastMode thanks for all the memories and thrills you gave all of us! Great teammate - tireless worker The game will miss you! #stopit — perry hill (@PHill_bone) February 27, 2015
Congrats on your retirement @JPBeastMode glad I can wear your number with the #Fish I hope I can continue your legacy! — Dee Gordon (@FlashGJr) February 27, 2015
@JPBeastMode @MLB DESPISED facing you, couldn't make you swing and miss. Congrats on a wonderful career and on being a good man — Curt Schilling (@gehrig38) February 27, 2015
Prior to the 2003 season, Pierre came to the Marlins in a blockbuster deal that sent the likes of Charles Johnson and Preston Wilson to Colorado. At the time, it was a move that was seen as a payroll-slashing one. Both Johnson and Wilson were earning more than Pierre at the time. It ended up being one of the most important moves in Marlins history.
Pierre sat atop the Marlins lineup and was a big reason for the championship run in 2003. The speedster swiped 65 bases and his over .300 while keeping the dugout energized on a daily basis. Pierre did not slow down when the regular season ended and remained a catalyst during October as well.
The next two years, Pierre remained in Florida and posted solid numbers as well on teams that missed the playoffs. After the 2005 campaign, the Marlins elected to move Pierre in a trade that brought back Ricky Nolasco in a package of arms.
Pierre would go on to remain the energetic force he was known to be for seven seasons outside of Florida. Despite never being named an All-Star, Pierre was consistently a player that opposing pitchers hated to see at the plate or on the bases.
At age 35, Pierre returned to the Marlins for a one-year stint in 2013 which made him one of the rare players to don both a Florida and Miami jersey. Pierre had a tough year and it ended up being his final season.