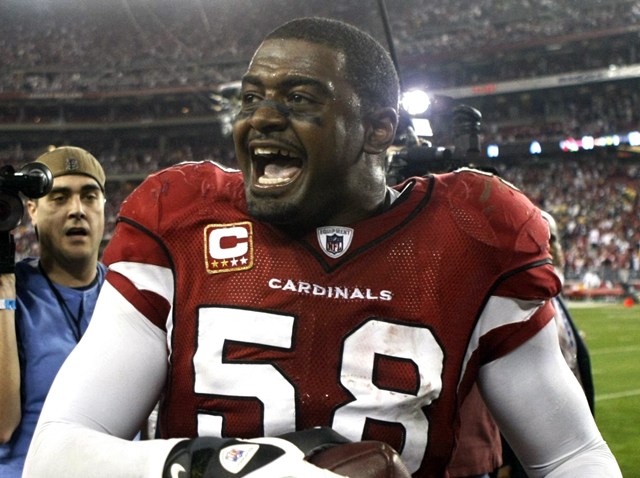 He's on a plane! He's not on a plane! He will be on a plane! He ate a plane!
So went the Karlos Dansby-to-Miami rumor mill as the NFL free agency frenzy got underway at midnight. Dansby, a free agent out of Arizona, could be the key to all of Bill Parcells' off-season plans: sign him to fill the gaping need at inside linebacker, and the entire draft opens up for the Dolphins.
Don't, and Miami might have to use their 12th pick a bit high on Rolando McClain out of necessity -- and then see to other needs, which is a lot less ideal.
The catch? Dansby wants $30 million guaranteed, and the Dolphins have made some cost-saving moves of late. Are they saving or freeing money to spend? We'll know if Dansby (and that plane) gets out of Miami after arriving sometime today. He confirmed on ESPN's NFL Live last night that Davie is his first stop on the job hunt, putting the Dolphins squarely in the driver's seat. Giggedy!
Two other stories to keep an eye on:
Antrel Rolle: The Cardinals outright released the former Hurricanes safety after Rolle outperformed his contract to the team's financial detriment. Though Dolphins GM Jeff Ireland recently backed oft-maligned safety Gibril Wilson, there's no doubt Rolle is an upgrade and rumor has it the Dolphins have already offered -- but no word on whether or not they're close to his $8 million-a-year asking price.
Chad Pennington: In a surprising turn of affairs, CP was reportedly expected to re-sign with Miami until he requested a no-trade clause. ESPN reports Pennington had agreed to serve in an advisory backup role to Chad Henne, Tyler Thigpen, and Pat White, but wanted assurances he wouldn't be dangled as trade bait and forced to move his family. The Dolphins apparently pointed to David Lee and balked. Keep an eye on this, as the situation may indicate what the Dolphins have planned for Thigpen and White -- if anything at all.
So goes free agency, where almost anything can happen -- and we're only a few hours in. Wheee!