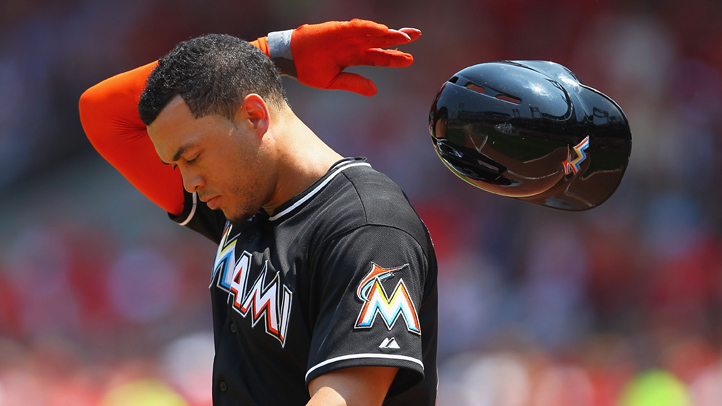 The Miami Marlins have had many problems this season, and chief among them is the team's lack of power. The Marlins are last in the majors with 95 home runs as of Monday night.
On Tuesday, Marlins outfielder Giancarlo Stanton suggested one easy solution to the Marlins' power outage: move in the fences at spacious Marlins Park. It is not uncommon to see towering shots of Stanton's land in outfielders' gloves for easy outs, and he would like to see that change.
"You love to see scoring, but you love to see home runs as well," Stanton told MLB.com. "You don't see them when you come here - from both sides."
Marlins Park has one of the most spacious outfields in MLB, and as a result it has seen only 84 home runs through the first 76 Marlins home games of 2013 (only 36 of which came from the Marlins). The home run fence is 418 feet from home plate in straightaway centerfield, with power alleys of 386 feet in left-center and 392 feet in right center.
The "Bermuda Triangle" just left of centerfield stretches 420 feet from home plate at its deepest point. This is troublesome to right-handed power hitters like Stanton.
"I want the normal [home runs], too," Stanton explained. "Where I don't have to crush it 500 feet all the time." He estimated that Marlins Park has cost him 10 home runs since it opened last season.
The deep outfield can have its benefits. The Marlins are 9th in MLB with 30 triples on the year. That the team has such trouble with home runs and doubles (Miami is last in the majors in that category as well) but hits so many three-baggers is likely influenced by the home park.
But that benefit is far outweighed by the cost of suppressing home runs, at least to Stanton. And he has good reason to wish for shorter fences at Marlins Park. When he becomes a free agent after the 2016 season, his worth will be tied largely to his ability to hit baseballs out of the park. More home runs equals more money, plain and simple.
But it is not so cut and dried for the Marlins. Any increase in Miami home runs at Marlins park will likely be matched by visitors' home runs, so bringing in the fences on its own might not lead to more wins.
There is recent precedent to move in the fences, though, as the New York Mets, San Diego Padres, and Seattle Mariners have all done so in the past few years.