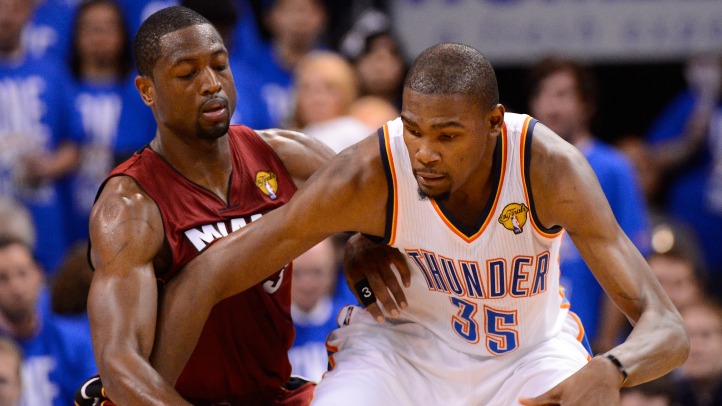 Further proving that winning championships doesn't quiet all doubters, Oklahoma City forward Kevin Durant continued his critique of Miami Heat guard Dwyane Wade. The reigning four-time NBA scoring champion reasserted in an interview Saturday that former teammate James Harden, and not Wade, belongs in the list of ten best players in the NBA, and added that the 31-year-old Wade should "pass the torch" to the 24-year-old Harden.
"A lot of people disagree with me, but it is what it is," Durant said to Eurohoops.com. "It's nothing against D-Wade, he is a great player, he set his mark in the league, he is one of the best shooting guards ever."
"I just thought, that as an older guy, it's time to pass the torch to the younger guys," he continued. "Just like somebody did to him, just like somebody did to me and I will have to do the same later on. So I just thought it was his time."
Durant referenced an interview he gave in September, when he said Harden should have taken Wade's place in Sports Illustrated's list of the top ten players to watch this NBA season.
That inspired Wade to post an note on Instagram in which he vowed to "Make [Durant] respect your place in history."
While Wade and Durant disagree in their assessments, it is true that Harden and Wade are both playing at a high level. Wade scored 21 points per game with 5 rebounds, 5 assists, and 2 steals last season, compared to Harden's 26 points, 5 rebounds, 6 assists, and 2 steals.
But while Harden (now with the Houston Rockets) scored more points, Wade had him beat in advanced statistics. Wade shot 52.1% from the floor, well above Harden's 43.8% rate. He also put up a Player Efficiency Rating of 24.0 to Harden's 23.0. PER is an advanced statistic that measures the totality of a player's offensive contribution to his team.
If anything, Durant's comments only intensify the rivalry between the Heat and Thunder, who faced each other in the 2012 NBA Finals. With Harden still in Oklahoma City, the Heat won that series in five games, and Wade clearly had the better of Harden.
Harden struggled mightily in that series, shooting 37.5% and committing a turnover on 17% of his possessions on the floor. Wade shot 43.5% and scored 22.6 points per game in the 2012 Finals.
This argument is far from over, even though at some point the older Wade will eventually have to yield to Harden. But Wade is determined to put that off for at least another year as the Heat go for their third straight championship.