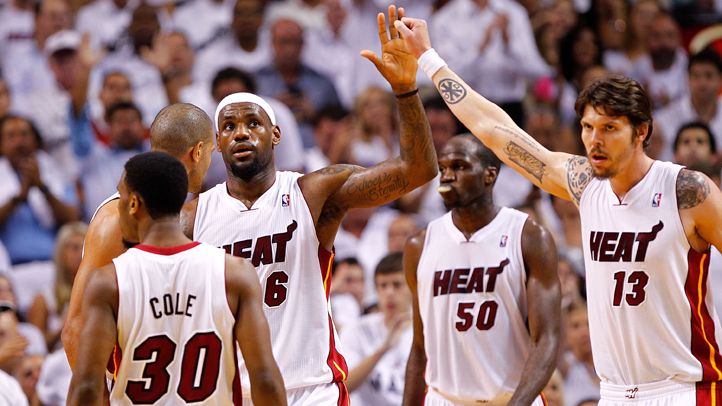 While the world debates exactly why the Miami Heat's Game 2 loss to the Indiana Pacers was LeBron James' fault (some say because he missed two crucial free throws in the final moments; others because he should have taken the game's last shot, and not Mario Chalmers), the Heat are focused on the task of getting more production out of their supporting cast.
Take away the 52 points Dwyane Wade and LeBron James scored on Tuesday, and the Heat's role players scored 23 points (no single player scored more than 5) on 9 of 34 shooting (26%). In Game 1, the same group (minus Chris Bosh, who only played a half before injuring himself) scored 21 points on 7 of 21 shooting (33%).
Simply put, the Heat are leaning too much on the scoring abilities of Wade and James, which is leaving them fatigued late in games. Both players logged over 40 minutes of action in Game 2. Many of Wade's missed jumpers in Game 2 hit the front of the rim, a common sign of tired legs.
The way the Heat are spinning it, the lack of production from players not named Dwyane or LeBron is bound to turn around sooner or later. "I believe in the law of averages," Shane Battier told the Miami Herald on Tuesday. "We have good shooters. It's just a matter of time before that number goes up to what our historical average is."
Part of the problem has been Indiana's defense. The Pacers are giving up fewer open looks from the corner, where the three-point line is closest to the basket. According to NBA.com, just 5 of Miami's 22 attempts from downtown in the series have come from either corner, about half the number that should be expected given the Heat's regular season stats.
Miami's wing shooters (Battier, Mike Miller, James Jones and Mario Chalmers) typically set up in corners during each offensive possession. The Pacers have noticed this, and are not ignoring them, leaving the Heat with few open shots from the corners.
That strategy sometimes leaves an opening in the lane for Wade and James to drive to the basket. The Heat exploited this loophole in Game 1, but in Game 2 they seemed to stand around too many times waiting for an opportunity to present itself.
The absence of Chris Bosh's outside jump shot exacerbated this problem, as no one on the Pacers was concerned that Joel Anthony or Ronny Turiaf would even attempt a shot farther than 8 feet away from the basket.
The Heat will have to get creative if they want to create more opportunities for their supporting cast to get open shots. But if Battier, Chalmers, Miller and co. can't hit the shots they do get, Miami could be in for another long slog in Game 3.