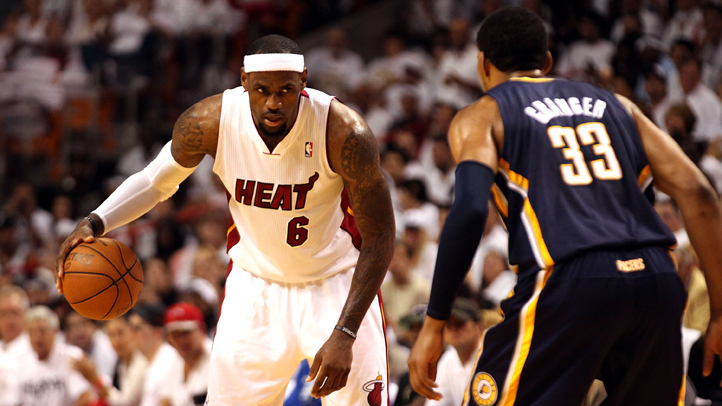 The Miami Heat resume their quest for a second straight NBA championship when the Eastern Conference Finals tip off at the AmericanAirlines Arena Wednesday night. Their opponent is a familiar foe: the Indiana Pacers, whom the Heat eliminated in the Eastern Conference semifinals last season.
"It's an opportunity for me to continue my dream and that's to compete for a championship," said Miami's LeBron James on Tuesday. "I'm happy that I'm in the position I'm in, with great teammates and a great organization. I've just got to do my part."
Vogel Says He Never Called Heat 'Just Another Team'
Indiana took a 2-1 series lead last May before the Heat reeled off three straight wins to advance. However, that was without Chris Bosh, who left Game 1 with an abdominal injury and did not return for the remainder of the series.
This year's Pacers are almost exactly the same team as last year's squad, and like last year Indiana will try to win by outrebounding the Heat and scoring in the paint. The Pacers won two of three regular season games against Miami, winning the rebounding margin by over 10 boards per game.
The Pacers' linchpin is center Roy Hibbert, a 7'2" rebounding machine who struggled offensively against the Heat in last season's playoffs. He grabbed 3.7 offensive rebounds per game during the regular season, a major advantage for Indiana considering the Pacers' abysmal 43.6 field goal percentage. But his 45% shooting rate is abysmally low for a player who takes most of his shots within ten feet of the basket.
Heat-Pacers: War of Words Has Already Begun
Indiana has a reputation as a tough defensive club, and the numbers back up that characterization. The Pacers have the lowest opponent field goal percentage in the NBA, and give up the fewest points per possession in the league.
But Indiana turns the ball over more often than all but five other teams, which is especially dangerous against a team that runs the fast break as well as the Heat does. If Miami can generate turnovers and limit Indiana's offensive rebounds to a palatable number (8 a game or less), the Heat will be in a good position to win the series.
For the second straight series, the Heat have had a week off since closing out the previous series. "It's been go time," James said. "Since the playoffs started, it's been go time. And I love the way we've been playing so far."
Game 1 tips off just after 8:30pm ET, with coverage on TNT.
Copyright AP - Associated Press