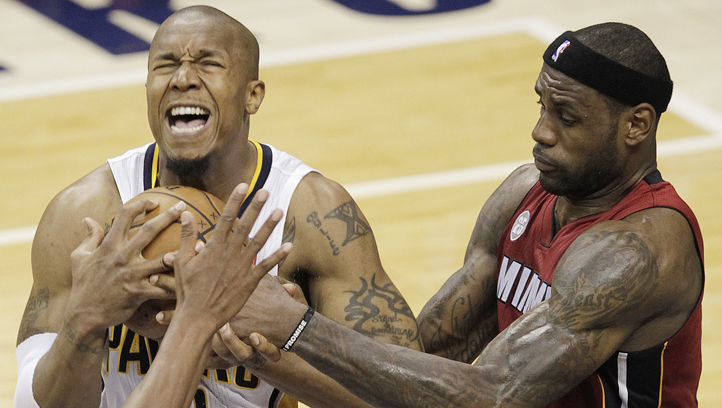 The Miami Heat entered the 2013 playoffs as the prohibitive favorite to represent the Eastern Conference in the NBA Finals starting Thursday. But for the second straight season, the Heat will have to win a Game 7 on their home court if they want their quest for a championship to continue.
The Heat and Indiana Pacers will take the court Monday night at the AmericanAirlines Arena for a chance to face the San Antonio Spurs in the NBA Finals. The Heat have never trailed during the Eastern Conference Finals, but now face elimination for the first time since last year's Eastern Conference Finals.
"You feel alive when you're tested, when there's adversity, when you have to reveal your character," Heat coach Erik Spoelstra said Sunday. "Then when you do with that collectively, that is a special moment and a special feeling. There's nothing like it in pro sports ... arguably two of the top words in pro sports is 'Game 7.'"
Miami blew a chance to eliminate the Pacers Saturday night in Indy. The Heat led by a point at the half, but were outscored 29-15 in the third quarter and could not come back.
While LeBron James has been his usual prolific self during the series, Dwyane Wade and Chris Bosh have practically disappeared. James has averaged 28.5 points a game during the series, three more points than Bosh and Wade combined. In the last three games, Wade shot 32% from the field, while Bosh shot 24%.
"I mean, we can state the obvious," James said. "They're both struggling."
They aren't the only ones. Ray Allen and Shane Battier, two players the Heat have depended on for timely three-point shooting, have shot just 9 of 39 from downtown during the series. Battier has passed up open looks during the series.
NBA Fines LeBron $5K for Flopping
Mindful of his players' struggles, Spoelstra said Sunday "Everything is on the table" with regard to who will be on the floor Monday. Mike Miller got extra minutes in Game 6, as did Joel Anthony.
Miami will also have Chris Andersen back after he served a one-game suspension in Game 6 for his flagrant foul on Tyler Hansbrough in Game 5. Anthony played good defense in his place, but the Heat will like to have his scoring touch and rebounding ability on the court in Game 7.
The Heat are trying not to overthink Game 7, instead embracing the circumstance. Spoelstra talked of feeling "alive" because of the intensity of the moment. "Just got to come out and play to win," Wade said. "It's one game for both teams."
James echoed Wade and Spoelstra's sentiment. "Each and every year there are 30 teams that would love to be a part of this, to have one game to advance to the NBA Finals," he said.
"And there's two teams that's in this position. And it's something that you can't substitute, this feeling. You can't substitute the atmosphere that we're going to be in on Monday night for both teams. We should all cherish this moment."
Game 7 tips off at 8:30pm ET, with coverage on TNT.
Copyright AP - Associated Press