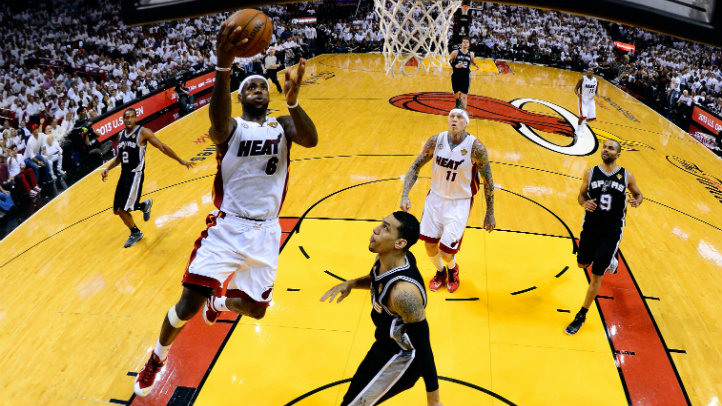 The Miami Heat will try to take the lead in the NBA Finals Tuesday night when they visit the San Antonio Spurs for a pivotal Game 3. The Heat bounced back from a disappointing loss in Game 1, and now will try to prevent the Spurs from making adjustments and regaining momentum.
"We're a very humble team and when we make mistakes and when we lose we come in the next day willing to learn," Heat guard Dwyane Wade said. "We own it and we come out and make the adjustments."
What made Sunday's win even more impressive was the fact that it came despite a low-scoring (for him) effort from reigning MVP LeBron James. He scored 17 points, almost 10 points below his per-game average during the regular season.
But while James struggled to find his shot, his teammates were more than capable of picking up the slack. Mario Chalmers scored 19 points (all while helping to bottle up Spurs PG Tony Parker), and the bench contributed 40 points.
"Obviously, LeBron is unbelievable," Parker said after the game. "He's going to score. But right now the other players, they are playing great, too. So we can't have both."
What was more impressive than the Heat's offensive explosion in Game 2 was their stifling defense. Apart from Danny Green (who hit all six of his shots from the field for 17 points), no one on the Spurs could get in rhythm.
San Antonio's Big Three of Parker, Tim Duncan, and Manu Ginobili combined for 26 points on 10-of-33 shooting. Miami's defensive rotations were crisp, and were it not for the Spurs' strong three-point shooting (10 for 20), the outcome on Tuesday could have been even more lopsided.
Just how pivotal is Game 3? In the past 12 NBA Finals that entered Game 3 tied at 1-1, the team the won Game 3 ended up winning the series 11 times. The only exception: the 2011 Finals, when the Heat beat the Dallas Mavericks in Game 3, then dropped 3 straight to lose the series.
Game 3 tips off at 9pm ET, with coverage on ABC.
Copyright AP - Associated Press