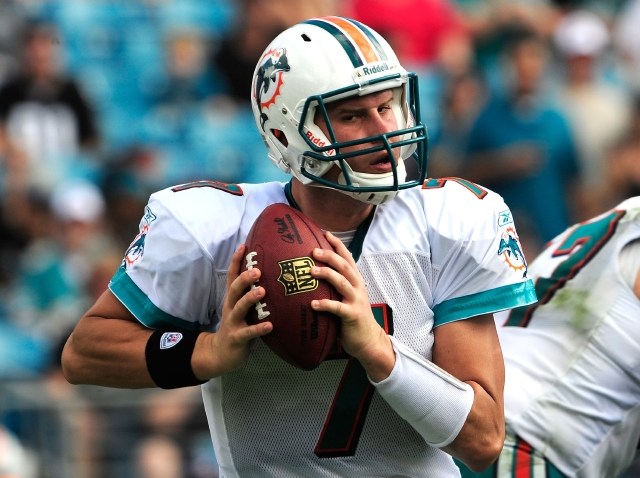 During last month's Senior Bowl workouts, NFL scouts and noggins got a good, close look at Tim Tebow's wonky throwing motion -- and promptly ran to the sidelines to be sick. "The smell!" they cried, like so many crime scene investigators into the night.
Or something like that. It was pretty bad.
Tebow promptly declined to humiliate himself at the NFL combine, stripped down to his underwear in public, and ascended back into heaven to completely retool his form and footwork. Yesterday, he finally unveiled this new throwing motion ("Seraphim's Bullwhip") at Florida's Pro Day, and, well, results were mixed.
Unless, that is, you're asking Chad Henne.
"My judgment is that he's not an NFL quarterback," Henne told Curtis Stevenson and Anita Marks of WQAM in Miami regarding Tebow. "I'll leave it at that."

Wow.

Making Henne's opinion more compelling is the fact that his position coach, David Lee, is one of the men who are helping Tebow become that which Lee's primary pupil says Tebow isn't.

And suddenly we hope Tebow lands in the AFC East.
Okay, the "wow" and manufactured drama is a bit gratuitous, ProFootballTalk -- for all we know, Lee privately shares Henne's opinion, as do hundreds of other experts -- but it is a pretty sharp statement from a guy in whose position most quarterbacks normally just say something polite and move on until they're paid to critique their peers on TV.
Perhaps that's why it's so awesome. It's always, always insightful -- or at least good, bitchy fun -- when NFL guys get a chance to say what they really think without angling for time or carries or a contract, and it'll be a shame if this gets blown out of proportion and the Robot clams up from here on out (Tebow? Blown out of proportion? What are the odds?).
After all, having watched another highly decorated spread option quarterback with a non-traditional throwing motion struggle to get the NFL basics down, and having played against Tebow himself, Henne's in as a good a position to judge as everyone else. And like Fins Nation pointed out, we have yet to get his opinion on tacos. Don't let's ruin a good thing.