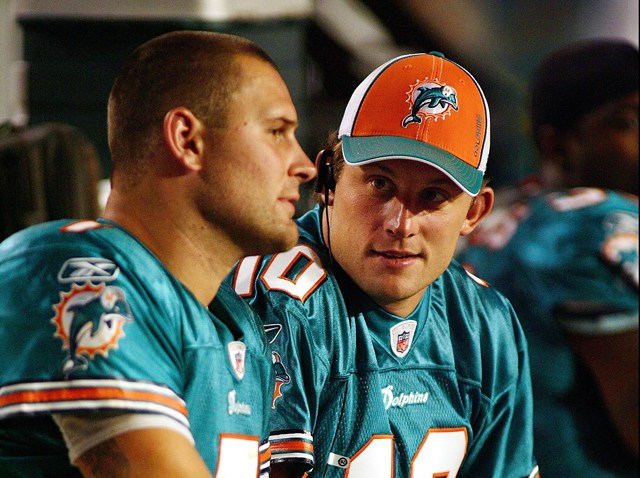 Chad Pennington just won't die, and we're not too upset about it.
The man that seems to have more arm surgeries than a cat has lives will be back with the Miami Dolphins for at least one more season.
The quarterback officially signed a one-year deal with the team Monday. He's expected to back up Chad Henne, who replaced him when Pennington injured his right shoulder in the third game last season.
Pennington agreed to a one-year contract with the Dolphins worth $2.5 million with a "trade bonus" of $1.515 million if the team trades him. He gets close to $6 million if he wins the starting job away from Henne.
At this point, would anyone bet against Pennington?
Just like everyone else, we wrote Pennington off and even held a farewell party for him. We want our gift cards back, Chad.
The 33-year-old Pennington is recovering from the third operation of his career on his throwing shoulder. Twice he has
returned from injuries to win NFL Comeback Player of the Year, most recently in 2008, when he led the Dolphins to their first playoff berth in seven years.
If he does it again, Pennington will tie Jesus for the most comebacks in human history.
During that first season in Miami, Pennington made an immediate impact by helping lead the Dolphins to the biggest single-season improvement in NFL history, 1-15 to 11-5 and the first AFC East championship for Miami since the 2000 season.
Pennington spent the first eight seasons of his NFL career with the New York Jets, who made him a first-round draft choice in 2000
(18th overall). The Dolphins also have two other quarterbacks, Pat White and Tyler Thigpen, on the roster.
Copyright AP - Associated Press