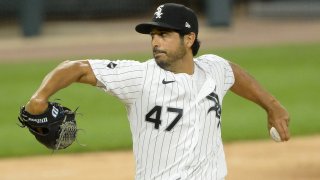 Veteran left-hander Gio González has agreed to terms on a minor league contract with the Miami Marlins and will take part in their major league camp.
González, a South Florida native, pitched in 12 games last year for Chicago White Sox with four starts and had an ERA of 4.83. He has a career record of 131-101 with a 3.70 ERA in 13 seasons for four teams.
Download our app for iOS or Android to get the latest forecasts on the hurricane season— and sign up for alerts.
At 35, González provides experienced depth for the Marlins' talented young rotation. He is a two-time All-Star, with Oakland in 2011 and Washington in 2012.
___
More AP MLB: https://apnews.com/hub/MLB and https://twitter.com/AP_Sports
Copyright AP - Associated Press