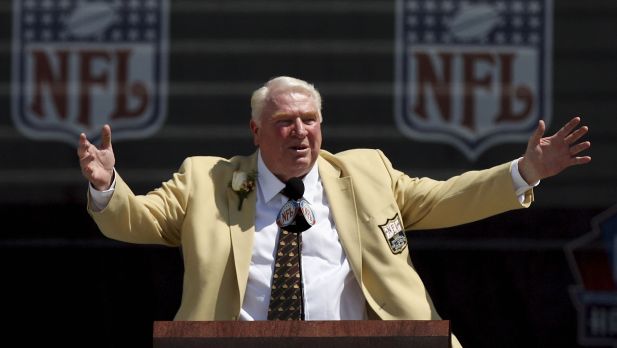 Football is all about America, and America is all about football, and what better way to prove it to yourself, your family, your friends, and your unborn child than by naming said child after a legendary, now-retired, football broadcaster?
In 2008, more people than ever named their child "Madden." That's according to CNBC's Darren Rovell, who found that Madden cracked the top 1000 most popular U.S. names for the first time in 2007. In 2008, that name shot into popularity, ranking No. 615 -- almost 200 places higher than the year before. Clearly, this suggests a rising trend, meaning in 2009 -- the year Madden retired to a life of insane video game properties profits -- the name will probably get even more popular.

Which, of course, is insane. People. We know you love football. We love football too. But there are so many better ways to express this love. Do not saddle your children with this name. A child named Madden will never forgive you, and the usual cycle of teen resentment and bottomless resentment, which usually fades by around age 20, will probably continue unabated for at least another decade. You might not live that long! Don't risk it! Just buy an inflatable NFL chair or something.

There are other interesting tidbits in the numbers. For example, the name Beckham -- after English soccer star David Beckham -- made the top 1000 list in the U.S. for the first time ever in 2008, likely a product of Beckham's brief foray into Amerian soccer with the Los Angeles Galaxy. Speaking of Los Angeles, people are naming their child Kobe again. Oh, and rounding the football names: Eli was the 100th most popular name in the country, six spots behind Brady. Let the rivalry continue.

Eamonn Brennan is a Chicago-based writer, editor and blogger. You can also read him at Yahoo! Sports, Mouthpiece Sports Blog, and Inside The Hall, or at his personal site, eamonnbrennan.com. Follow him on Twitter.

Copyright FREEL - NBC Local Media