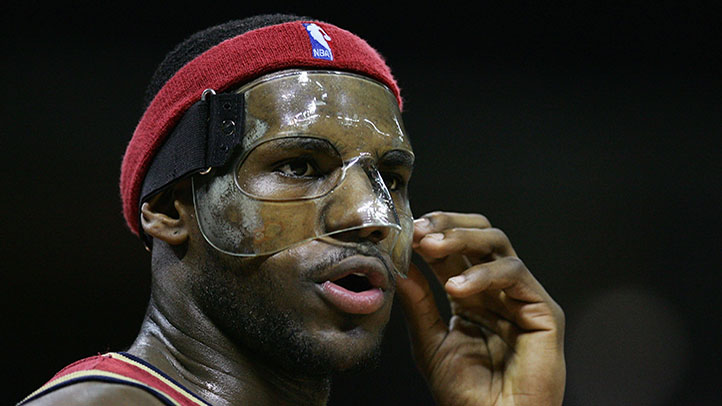 LeBron James passed a concussion test Thursday night, but an X-ray on Friday confirmed that he has a broken nose, according to NBA.com.
James was injured while going up for a dunk in the fourth quarter of the Miami Heat's victory on Thursday. Oklahoma City Thunder power forward Serge Ibaka hit James on the nose and it led to the Heat star profusely bleeding on the court.
Before falling to the floor, James did complete the thunderous dunk but it was immediately evident something was very wrong. James, who so often gets up after hard hits, stayed down with his head buried in his hands.
"I'm like everybody else. You're used to seeing him like Superman, get up and sprint back even after tough hits and tough falls. So we knew something was up," Heat head coach Erik Spoelstra told the Sun-Sentinel after the game.
James will likely need to wear a mask due to the broken nose as is the norm for this type of injury. This would not be the first time James had to play with a mask so he should have a moderate comfort level.
Back in 2004 while with the Cleveland Cavaliers, James broke his left cheekbone after a hit from Dikembe Mutumbo. Following the hit, James donned a similar mask to one that has since been seen on several players including Kobe Bryant.
James didn't speak to the media after the game but he did take to Twitter in the early morning hours. James made reference to wearing a mask in the form of Batman villain, Bane.
I mean I just might have to...BaneJames #StriveForGreatness http://t.co/XHlHnArbWG — LeBron James (@KingJames) February 21, 2014

James is currently listed as questionable for Sunday's game and will be a game-time decision according to the NBA.com report. After an extended road trip, Miami will be playing at home for the first time since February 3rd and will take on the Chicago Bulls.