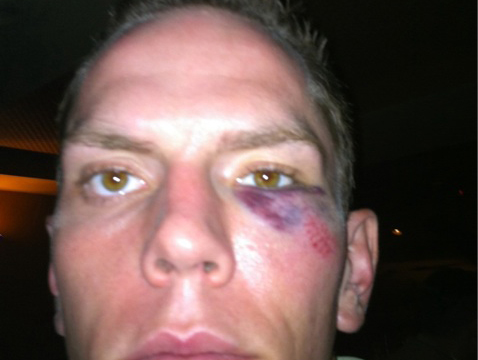 There was a pie to the face after Sunday's win over the Braves, but it played safe this time.
Instead, it was regular old on-deck warmin' up that nearly ended Logan Morrison's career less than six weeks into the Majors: a foul line drive off Emilio Bonifacio hit the rookie left-fielder just under his left eye, square in the cheekbone.
X-rays showed LoMo will be okay, but for now, the stitching of a baseball is clearly visible in his golf ball-sized lump, and doctors will continue to monitor him to ensure his sinuses don't fill with blood.
"A couple of more inches this way it's the temple," Morrison said. "A couple of more that way and it's the eye...
"Definitely scary. Lucky, lucky. Very lucky."
He later took to Twitter to share his shiner: "Wanna see what a close range line drive to the face looks like? Boom!"
The shot came in the 10th inning, providing a terrifying moment to constrast with the celebration the Marlins would shortly enjoy when Scott Cousins notched a game-winning homer on his first career hit.
Morrison, 23, was hit so hard an audible crack echoed around the stadium and his helmet flew up and into the stands as he collapsed on the dirt. Along with trainer Mike Kozak, second baseman Dan Uggla darted from the bench to where Morrison lay face down.
"That's as hard as I've ever seen anybody get hit in the face with a baseball," Uggla said. "It scared me to death."
That makes two, along with Morrison and 19,504 in attendance, who gasped in unison at the sound of ball on bone.
Plus the Fish fans watching from home, who no doubt remember how a ball to the eye ended the career of former Marlin Juan Encarnacion.
But the Marlins ended the night as lucky as LoMo. Not only did a self-proclaimed "nobody" provide the walk-off win, but Hanley Ramirez tempted fate by honoring Cousins with a shaving cream pie to the face during his post-game interview. We all know what happened last time that went down, but, fortunately, both emerged from the prank unscathed.