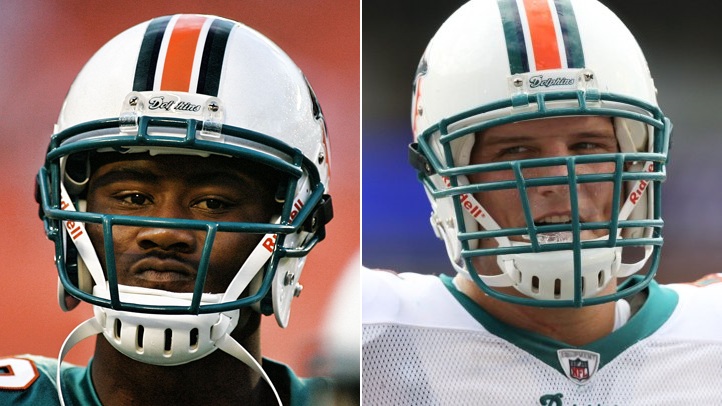 The votes have been in, and despite their team's lackluster season, Miami Dolphins Jake Long and Brandon Marshall have been selected to the AFC Pro Bowl team.

It is the fourth Pro Bowl in as many NFL seasons for Long, the team's left tackle. Battling through a variety of injuries this season, it appears Long may have skated in to the Pro Bowl based on his past accomplishments, which is not unusual for a veteran offensive lineman.

Nonetheless, he is happy to be named to the Pro Bowl. "I've always considered it a great honor every time I've been voted to the Pro Bowl," he told the Sun Sentinel on Tuesday night. "It's very humbling to be associated with the best players in the game. It shows that you have earned the respect of your peers, and I also appreciate the fans who voted for me as well."

Long reportedly tore his right biceps last week against the Patriots, so he may not be able to play in the January 29 game. He is expected to sit out the Dolphins' season finale on Sunday. Long has missed each of the past two Pro Bowls due to post-season surgeries.

This is the third Pro Bowl for Marshall, and his first as a member of the Dolphins. Through 15 games, he has 77 receptions for 1,177 yards. He is currently ranked 9th in the NFL in catches and 10th in yardage.

Marshall's 6 touchdowns put him in a 17-way tie for 24th among receivers and tight ends. Consider this, if he had caught the roughly 4 uncontested passes he dropped in the end zone this season, he would be tied for fourth in the league.

"Being named to the Pro Bowl is an amazing accomplishment and I am truly grateful for the honor," Marshall said to the Sun Sentinel. "This selection is special, considering the struggles we had this season."

Long and Marshall may not be the only Miami representatives in the Pro Bowl. As players drop out of the game due to injury or a Super Bowl berth, a number of Dolphins could make the Pro Bowl as alternates, including RB Reggie Bush, LB Cameron Wake and P Brandon Fields.