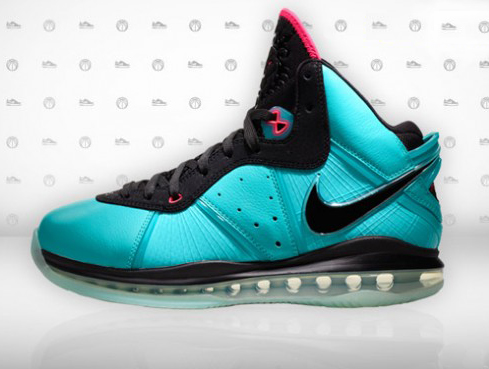 It didn't go so well the first time, but LeBron James is set to make another announcement in front of children.
Here's hoping they bring tiny shades. James will unveil a special limited "South Beach" edition of his new shoe, the Nike Air Max LeBron VIII, and, boy, is it bright -- the blinding pastel teal and flamingo pink colorway clearly inspired by Miami Vice and the Art Deco District.
Probably taking partial credit on the inspiration tip: the Marlins. But this sneaker isn't repping your run-of-the-mill franchise. It's got a $160 price tag, and it's exclusive to shops in the Magic City, a heartbreaker for color-loving sneakerheads in New York, Chicago, and L.A.
James will show off his new kicks at House of Hoops in the Dadeland Mall tonight, the only place they're available until Sneaker Gallery downtown and a few other places around Miami begin to roll them out starting Monday.
Heat enthusiasts will be relieved to know the LeBron VIII will launch in a traditional red and black next month, but in the meantime, let's hope those children have been saving their allowance as long as they've been alive -- or have at least been practicing fending off any Nike human resources execs they may encounter at the launch.