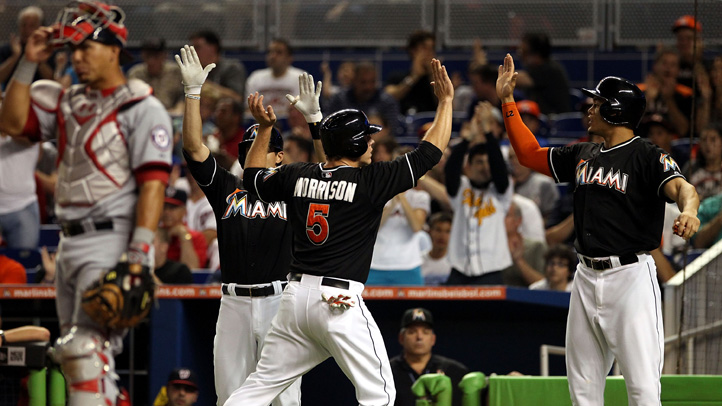 The Miami Marlins' rough first inning certainly didn't suggest they would eventually get the best of Stephen Strasburg and the Washington Nationals.

The Marlins spotted Strasburg three runs in the first, but responded in a big way.

Marcell Ozuna drove in three runs, and Giancarlo Stanton homered for the Marlins, who dealt Strasburg the worst loss of his career in a 8-3 win over the Nationals on Friday night.

"Obviously, that first inning wasn't how anybody drew it up," Marlins manager Mike Redmond said. "I don't think anybody anticipated that. Fortunately for us we were able to come out there and have some great at-bats."

Strasburg (5-7) allowed a career-high seven earned runs and tied a career-high with four walks in two innings after the Nationals gave him a 3-0 lead.

"He's been awfully good, but this time was the one bad one," Nationals manager Davey Johnson said. "It was just a tough time. We got him the lead and he had some problems."

It was his shortest outing since he pitched two innings on May 31 at Atlanta. He left that game early because of a lat strain that forced him to go on the disabled list.

"Today was one of those days where Strasburg really looked out of whack," Redmond said.

Washington has lost four of five.

Nathan Eovaldi (2-0) settled down after the tough first inning and held the Nationals without a run over the next five innings. He struck out five and walked four.

The Nationals took a 3-0 lead on a two-run double by Adam LaRoche and an RBI groundout by Jayson Werth.

"I kind of let the first inning get the best of me," Eovaldi said. "The guys picked me right back up as soon as we got in the dugout, which was huge for them to put together the at-bats they did against Strasburg."

It was rare run support for Strasburg, who entered the game with a 2.45 ERA, but he was unable to hold the lead.

"I couldn't throw a strike," Strasburg said. "It's frustrating. Throw ball one, ball two to every single batter."

Strasburg walked three of the first four batters he faced, and Ozuna made him pay with a bases-clearing triple to deep center field that tied the game 3-3.

"I was facing him a couple years ago in low-A when he made a rehab start, and I struck out," Ozuna said. "He threw harder before and now he is 96 sometimes — 93, 92 is the average of his fastball. He threw very hard 99, 98 with a big curveball, no chance to get a hit.

"Now we face him and I got my hit, a big hit."

Derek Dietrich and Eovaldi followed with RBI singles, and the Marlins sent 10 batters to the plate in the first inning and led 5-3.

"I wasn't planning on going out there and giving up five runs in the first inning, but it is what it is," Strasburg said. "You just have to hang in there, I guess. It's tough. It happens to everybody. It's all about how you bounce back."

Stanton's ninth home run of the season, a two-run shot into the Nationals bullpen in right field, stretched Miami's lead to 7-3.

Adeiny Hechavarria, who singled in the first to extend his career-best hitting streak to 11 games, had an RBI double in the seventh to make it 8-3. Hechavarria is batting .442 (19 for 43) during the streak.
Copyright AP - Associated Press