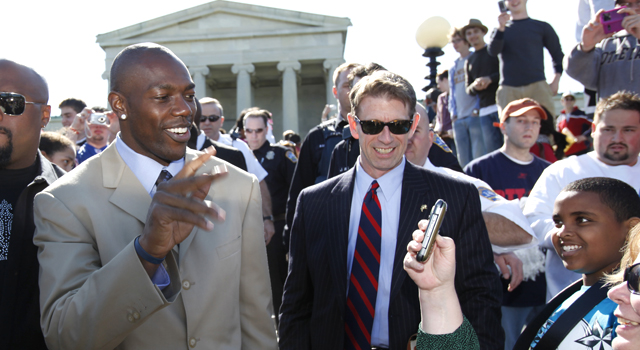 The Miami Marlins may not add much talent in free agency this year but they have set their sights on keeping what they have long-term.
While the Marlins remain active in contract extension talks with Giancarlo Stanton, they have also begun to try and keep the rest of their core together as well. Jose Fernandez, Christian Yelich and Adeiny Hechavarria are the three players named in the report. Securing the three to long-term deals could go a long way in convincing Stanton that Miami is the place he wants to be.
Fernandez is under team control through the 2018 season and is coming off Tommy John Surgery. He has only pitched one full big-league season but it ended in a National League Rookie of the Year award. Fernandez will miss the first half of 2015 but with age and work ethic on his side, it is likely he will return to the form he once had eventually.
Offering a long-term deal to Fernandez comes with risk due to the injury and short experience but the Marlins have seen what can happen if they wait too long with a young talent. Waiting too long cost them Miguel Cabrera and could ultimately cost them Stanton as well. Right now, the Marlins could find themselves with their one chance to sign Fernandez to a team-friendly extension.
The one thing working against the Marlins is Fernandez's agent, Scott Boras. The well known agent has shown a preference in the past for having his clients reach free agency. In exchange for taking a risk on Fernandez, the Marlins are will likely seek a few free agent years as part of the extension and this could end up being a deal breaker for Boras.
Yelich is coming off a great first full year as a big leaguer and recently won a Gold Glove award for his efforts. His contract will pale in comparison to Stanton but he will still will likely be paid handsomely should he sign a long deal with Miami. Still, this is the time for the Marlins to make a move and try to secure the young outfielder. With arbitration years still on the table, Yelich would be in a position to secure guaranteed life-changing money while Miami would be able to avoid inflating payroll numbers down the line.
The Marlins know Yelich can be in Miami until 2020 even if they go year-by-year with him but if he performs as he did in 2014, his salary could become a problem. Right now, Yelich is a pre-arbitration player which means the Marlins can pay him the minimum salary each year. A long-term deal would likely increase those early salaries and also give him security in the arbitration years should he suffer an injury or a drop-off in production.
Hechavarria could be the easiest of the group to sign long-term. Under team control through 2018, the shortstop is entering the final year of his current deal. After that, he will head into arbitration in 2016. Hechavarria will not be in the running for a nine-digit contract like Fernandez, Stanton and possibly Yelich will. With a lack of depth at the position in the minor-leagues, Miami would like to have its shortstop position secured at the big-league level for the foreseeable future.
Hechavarria was a finalist for a Gold Glove this season and also posted his best offensive year as a big leaguer in 2014. Hechavarria is also durable and played in 146 games at a demanding position. On Opening Day, the shortstop will be only 25 and it is likely that Miami will offer him a contract of 5-6 years in length. That would allow the team to get a free agent year or two in exchange for their risk. The length of that contract would also give Hechavarria a chance to hit the free agent market again at a young age.
While it is possible that the Marlins sign none of these players to long-term deals this off-season, just starting the discussions could go a long way to convincing Stanton that the team is serious about winning. Miami could also seek help in free agency and via trades in order to improve on a team that stayed in the playoff hunt into September.