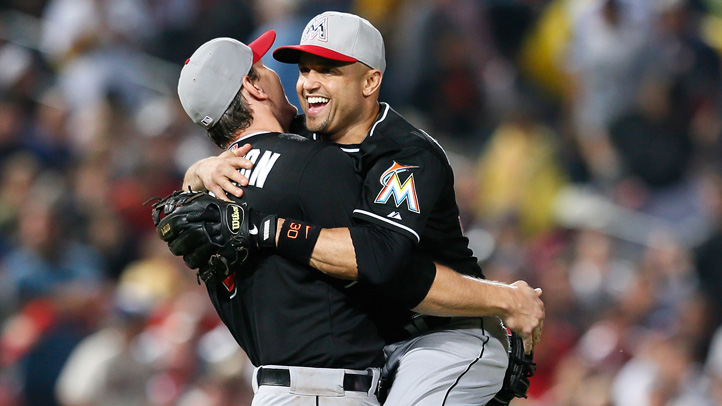 Donovan Solano delivered the big hit, Giancarlo Stanton made the crucial catch and the Marlins had a rare series win in Atlanta.

Solano's pinch-hit single off Braves closer Craig Kimbrel drove in the go-ahead run in the ninth inning, lifting Miami to a 4-3 victory Thursday night.

The Marlins, who snapped a streak of eight straight losses to the Braves with Wednesday night's 6-3 victory, took two of three for their first win in a three-game series at Turner Field since April 12-14, 2011.

"It sure feels good, and I know the guys are fired up," said Marlins manager Mike Redmond. "You've got to earn wins in this place against this team, and we earned it."

Marcell Ozuna had three hits, including a homer, and drove in two runs for Miami.

A.J. Ramos (3-2) allowed one hit with four strikeouts in two scoreless innings. Steve Cishek pitched the ninth for his 17th save.

Cishek walked Freddie Freeman to open the ninth. With one out, Stanton made a lunging catch of Dan Uggla's drive to the right-center gap to preserve the lead.

"That was one of the best catches I've ever seen," Redmond said, before adding with a laugh: "I knew he had it all the way."

Cishek stood on the mound, watching the line drive head toward the gap, and just hoped for a miracle from Stanton.

"I saw he got a pretty good jump on it," Cishek said. "It was like slow motion, and I was wishful thinking, 'Reach for that thing, big fella.' I got fired up."

Cishek struck out B.J. Upton to end the game.

Miami has won eight of its last 10 overall for four straight series wins. It was the Braves' first loss of a three-game series at Turner Field this season.

Kimbrel (2-2) issued walks to Ed Lucas and Logan Morrison, and struck out Stanton and Ozuna. Solano, pinch-hitting for Derek Dietrich, singled to right field. Lucas scored from second, beating Jason Heyward's throw to the plate.

"Anytime you start an inning off with a leadoff walk and then you put another one behind it, that makes it difficult," Kimbrel said.

Solano hit a 0-2 pitch from Kimbrel.

"It wasn't down as much as I would have liked," Kimbrel said. "It's one of those pitches that when you throw it, you kind of want to throw it in the dirt. You don't want to throw it where he can put the bat on the ball. And he was able to do it."

Henderson Alvarez came off the 60-day disabled list for his Marlins debut and gave up hits to four of the first five batters to open the game. Freeman's single drove in Andrelton Simmons and Heyward. Freeman scored on Brian McCann's double for a 3-0 lead.

Alvarez made a quick recovery to retire the next 11 batters, providing his teammates an opportunity to rally against Julio Teheran.

"I felt like my command wasn't there in the first inning," Alvarez said through a translator. "After that I was able to get in the zone."

Ozuna hit his fifth homer in the second inning. Jeff Mathis singled to lead off the second and scored on a groundout by Lucas. Ozuna added a fourth-inning single to drive in Morrison, who doubled, for a 3-all tie.

In his shortest outing since lasting five innings on April 18 at Pittsburgh, Teheran gave up six hits and three runs in five innings. He struck out seven.

Alvarez also allowed three runs in five innings. He gave up five hits with no walks.

Alvarez was lifted for a pinch hitter in the sixth when the Marlins had runners on first and third with one out. Greg Dobbs popped out and David Carpenter ended the inning on Justin Ruggiano's groundout.
Copyright AP - Associated Press