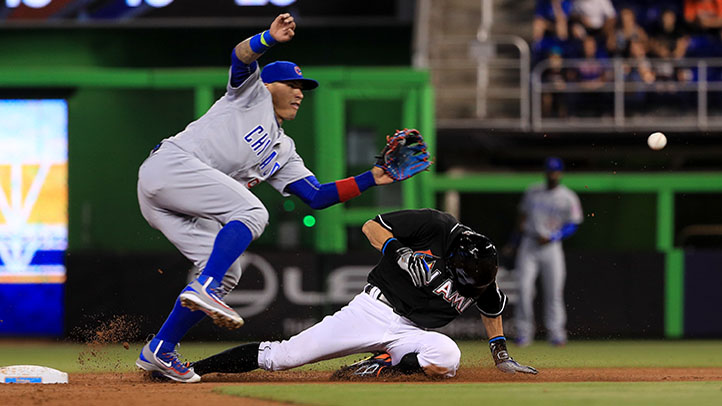 The Miami Marlins will host the World Series champion Chicago Cubs for four games beginning on Thursday.
This will mark the second series between the teams in June and Miami will be looking for better results. Earlier this month at Wrigley Field, the Cubs took two of three. At the time, Miami was one of the hottest teams in baseball and almost came away with two wins.
The Marlins are entering this series on a high note, after taking two of three from the first-place Washington Nationals. In Wednesday's series finale, Miami turned a no-hit loss into a win. The late exciting win could give the Marlins the momentum they'll need to top the champs.
In the first game of the pivotal four-game series, Miami will turn to Jeff Locke. In his four starts thus far, Locke has amassed a 4.58 E.R.A. All four of Locke's starts have been losses for Miami and he has been personally charged with two defeats. The lefty has not made it out of the sixth inning yet and his starts have taxed an already overworked bullpen.
Jose Urena will start for the Marlins in the second game of the series and he will look to improve on a 5-2 record. Urena has been Miami's most consistent starter, since he joined the rotation in May. With his 3.64 E.R.A, Urena been able to keep the Marlins in games. Opposing teams have only compiled three earned runs against Urena in his last 12 innings of work.
Saturday's game looks like a mismatch as Miami will send Justin Nicolino to the mound against Chicago's Jon Lester. Nicolino only lasted three innings in a loss to Washington in his last start and Lester can have Cy Young caliber stuff at times. Miami's bullpen figures to have a busy day in this one, as Nicolino has only worked more than four innings once this season.
In the series finale, the Marlins will turn to Edinson Volquez. The veteran has run into some trouble in two consecutive starts and will look to turn things back around. Volquez had sparkled for four straight outings, but has now allowed 11 runs in his last two starts combined.
Thursday's first pitch is scheduled for 7:10 p.m.