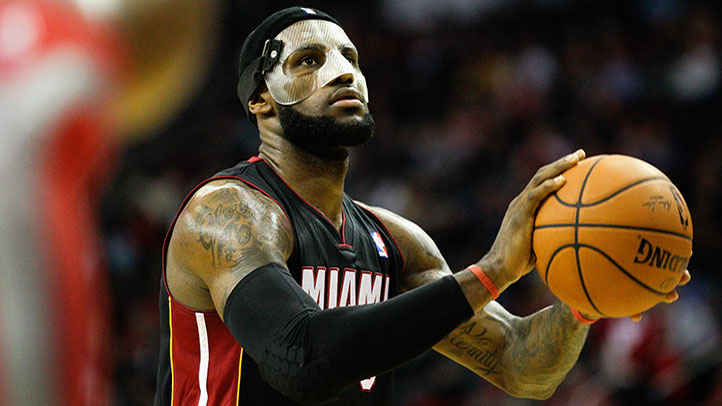 LeBron James has worn two different styles of masks since breaking his nose and now Marvel designed a third for him. The entertainment company showed off the artwork in a tweet.
The mask, which is reminiscent of the one worn by Marvel superhero Captain America, was shown off following the Miami Heat superstar's 61-point game on Monday against the Charlotte Bobcats.
James set personal and franchise records with his performance – but the night had an added twist because he continued to wear a mask on the court. The mask worn was a standard clear mask at the NBA's request after James wore a fashionable black mask in his first post-injury game. There's no denying that it would've been an even more memorable night if the Heat star had the Marvel mask on Monday.
This is not the first time there has been a crossover between James and Marvel as a comic was created back in 2012. The full issue which was titled "King of the Rings" can be viewed in digital form at Marvel.com and was a joint venture with ESPN the Magazine at the time. In the comic, the story of James of trying to fulfill his promise of multiple championships is told. James must fight at all costs to make that happen, crossing paths with the likes of even zombies that get in the way.
Marvel also recently teamed up with another member of the Heat when Chris Bosh voiced Heimdall in "Hulk and the Agents of S.M.A.S.H.," which is a television series.