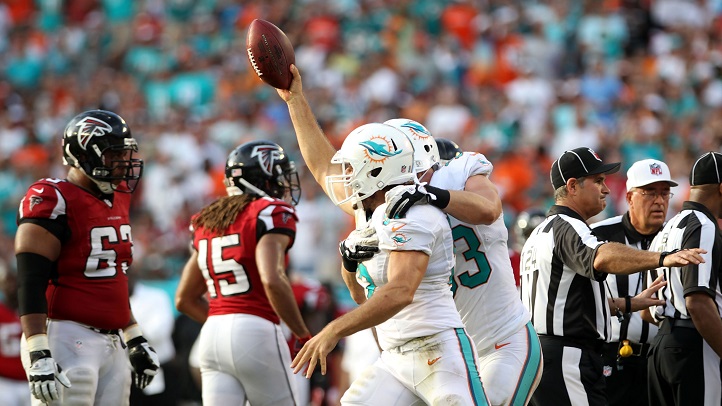 The Miami Dolphins are 3-0 for the first time since 2002, and they face their biggest test of the young season against the also undefeated New Orleans Saints. In front of a national television audience, the Dolphins have a chance to show some real progress in year two of the Joe Philbin era.
"Monday night is going to be a playoff atmosphere," Miami linebacker Dannell Ellerbe said this week. "Everyone is going to be watching, so we're going to get their best and they're going to get our best."
The Saints finished 7-9 last year while head coach Sean Payton served a one-year suspension for his role in the Bountygate scandal, but they have come back strongly in 2013. After eking out two wins by a combined 8 points to open the season, New Orleans crushed Arizona 31-7 last week. New Orleans has the 6th-best offense and 4th-best defense in the NFL, presenting a challenge for Philbin's young team.
When the Dolphins have the ball: Second-year QB Ryan Tannehill has exceeded expectations so far in 2013, completing 66% of his passes and averaging 275 yards per game. But Miami's offense has had less success in the running game.
"While we are 3-0, there are a lot of things we have to do better," Philbin said this week, making special note of the Dolphins' difficulties running the ball and avoiding sacks. While the offensive line has taken the brunt of the blame for these problems, Tannehill accepted some blame this week for holding onto the ball too long at times, while RBs Lamar Miller and Daniel Thomas have improved since gaining 0.9 yards a carry in Week 1.
Under new defensive coordinator Rob Ryan, the Saints have given up just 4 touchdowns in 3 games, and opposing offenses are gaining 296 yards per game, down from 440 last season. DE Cameron Jordan has emerged as a big threat, with 3 sacks on the season so far.
When the Saints have the ball: The Dolphins were able to slow Atlanta's potent passing attack in Week 3, but the Saints are on another level entirely. QB Drew Brees is averaging 340 yards per game with a 64% completion rate, and WR Marques Colston and TE Jimmy Graham are one of the best receiving duos in the NFL.
Considering Miami's difficulties against athletic tight ends in recent years, Graham could prove to be unstoppable. "His production over the last two weeks has been off the charts," Philbin said of Graham. "He has excellent concentration and hands. His size and length are an issue, and it's a concern when you go play him."
Miami will be without starting CB Dimitri Patterson for the third straight week, and DE Cameron Wake, LB Koa Misi, and DT Paul Soliai are all listed as questionable. Miami will need an effective pass rush to disrupt Brees, if Wake cannot go then rookie DE Dion Jordan will need to step up in a big way.
Who has the edge? Miami finally has an offense that it can be proud of, but slowing down the Saints' offensive firepower could be too much to ask of the Dolphins' banged up defense.
The Pick: Saints 31-Dolphins 21
Details: Miami Dolphins (3-0) at New Orleans Saints (3-0)
TV: ESPN, 8:40pm ET, Mike Tirico, Ron Jaworski, Jon Gruden
Line: Saints by 7
Previously: Saints won 46-34 in 2009 in Miami
Copyright AP - Associated Press