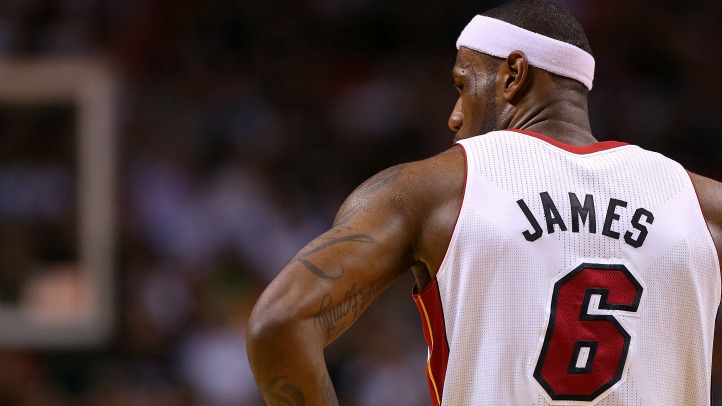 For at least one game, James, Wade, and Allen, may disappear from the jerseys of the Miami Heat, substituted by King James, Three, and Jesus Shuttlesworth.
The NBA has told members of the Heat and Brooklyn Nets that the league is considering having both teams wear jerseys with players' nicknames on the back during one of the four meetings scheduled between the two Eastern Conference powers this upcoming season. The NBA has not made an official announcement, but the teams themselves have been aware of the plans for several weeks.
"It shows growth in our league and it shows we do adapt to what's going on around us," said Heat guard Ray Allen, who plans to wear Shuttlesworth on his jersey in a tribute to his character from the Spike Lee film "He Got Game."
"And we're still kids, playing a kids' game. Even though we're now men playing a kids' game, we still remember where we come from. Everybody had a nickname and it's a way to let the fans in a little bit more."
Reigning MVP LeBron James is expected to wear "King James" on his back, while Dwyane Wade could go a number of different directions with his nickname, including "Three" or "MV3." Shane Battier said he wants to use "Batman," but since Warner Brothers owns the rights to that name, he will use "Shaneo" instead.
Brooklyn has some strong nicknames on their own roster, including "The Truth" (forward Paul Pierce) and "KG" (forward Kevin Garnett).
"Fans will like it and so will a lot of the players," Allen said. "Guys will get a good kick out of it."
The Heat play at Brooklyn on Nov. 1 and Jan. 10, while the Nets will visit AmericanAirlines Arena on March 12 and April 8.
Copyright AP - Associated Press