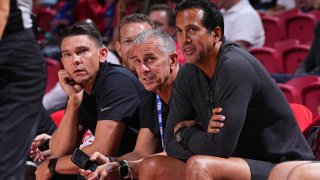 Tyrese Martin scored 21 points on 9-of-14 shooting, while Chaundee Brown Jr. was 8 of 11 from the field and finished with 18 points to help Atlanta beat Miami.
Chris Clemons, who averaged 30.1 points as a senior at Campbell in 2018-19, scored 15 for the Hawks.
Atlanta (1-2) made 37 of 69 (53.6%) from the field and shot 44.4% (8 of 18) from 3-point range.
Javonte Smart led Miami with 19 points on 5-of-14 shooting. Kyle Allman Jr. scored 14 points and Bryson Williams 11.
Copyright AP - Associated Press