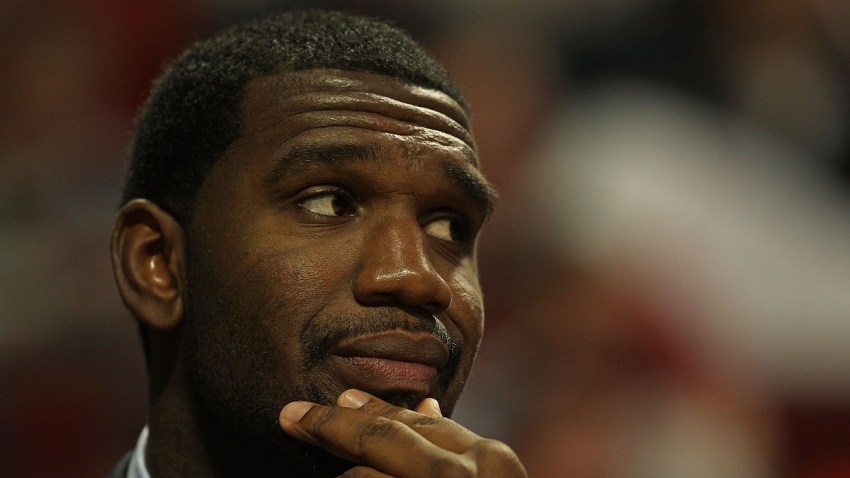 Miami Heat center Greg Oden just began participating in 5-on-5 workouts with his new team, but he has already encountered the first new hurdle in his quest to restart his NBA career. Oden was held out of practice Wednesday with swelling in his left knee, according to ESPN.com.
The Heat have not set any kind of timetable for Oden's debut, specifically because of the possibility of a setback like this.
Oden was mostly upbeat when asked about the injury, stressing that his comeback from multiple knee surgeries will take time. "This has been three years for me, as long as it's no surgery, it's OK," he told ESPN. "This is going to be a long season, I'm going to get there."
Oden has yet to appear in a preseason game with the Heat, and this setback could keep him out of game action before the Heat's season opener on October 29.
"I was hoping it didn't (swell up) but it did but and what can I do about it?" Oden added. "Next thing to do is get (the swelling) back down and get out there and figure out what I can do to not let it swell again."
He has not played in an NBA game since late 2009, undergoing microfracture surgeries in 2010 and 2012. Once the first-overall pick in the NBA Draft, Oden has appeared in just 82 games.
Earlier this month, Heat coach Erik Spoelstra stressed that the team is less concerned about getting him on the court as quickly as possible than making sure he heals successfully. "It's step-by-step, practice-by-practice, minute-by-minute," he said.
Oden took a major step in his comeback by participating in 5-on-5 drills on Monday (he even blocked a LeBron James shot), so it is not as if he has not made any progress. But the Heat are playing a long game with Oden, bringing him back slowly so as to not jeopardize his career any further.
The Heat's next preseason game is on Thursday at the Brooklyn Nets, with their regular season opener on October 29 at home against the Chicago Bulls.