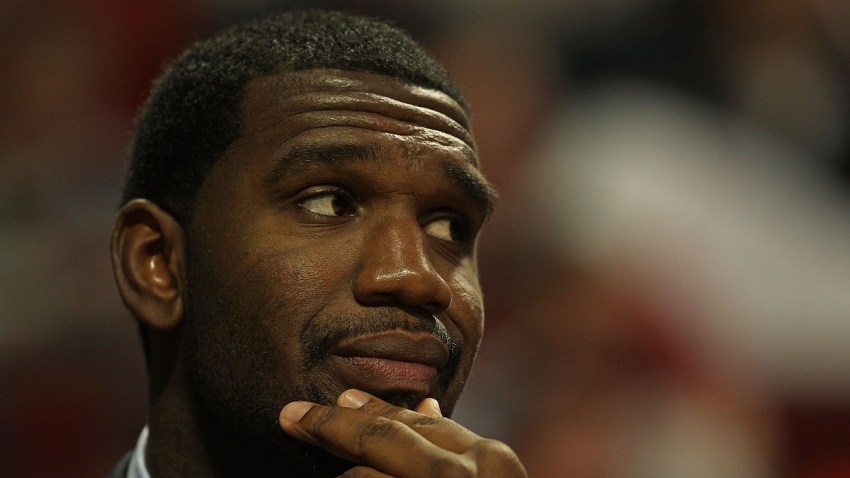 Miami Heat center Greg Oden played in an NBA game for the first time since 2009 on Wednesday. Sure, it came during a preseason blowout of the New Orleans Pelicans, but it was nonetheless a big moment for the former first-overall draft pick looking to get his career back on track with the Heat.
"It's been a long time and I've been wanting to get out there," Oden said after the game, in which Miami prevailed 108-95. "It was only a couple minutes, but it was what I needed, what I can handle right now and, you know, small baby steps."
Oden was inserted late in the second quarter, and he stayed on the court for four minutes. He finished with two points and two rebounds. Those points came on a strong dunk following an outlet pass from Chris Bosh (watch Oden's dunk below).
He last played in a regular season game with the Portland Trail Blazers on December 5, 2009, or 1,418 days before Wednesday night. "In December it would be four years, so four minutes, that's enough for me," Oden said. "As long as I got out there and I walked off and I'm healthy, that's all that matters."
Oden's promising career was sidelined by multiple knee injuries that required surgery. He missed the entire 2007-08 season after undergoing microfracture surgery on his right knee. He also underwent surgery on his left knee after fracturing his patella in 2009 and two separate microfracture surgeries on the same knee in 2010 and 2012.
The Heat signed Oden to a one-year deal at the minimum salary this summer. Heat coach Erik Spoelstra has vowed to take his time working Oden back into game shape - a luxury the two-time defending champions can afford.
Spoelstra said Oden's face "lit up" when he learned he was going into the game.
"We are just so pleased for him," Spoelstra said. "It was just great to see him do something he loves to do. It was taken away from him for four years. We just continue to make patient, steady progress forward from here."
Oden's teammates were equally happy.
"It was a very special moment," LeBron James said of Oden's appearance. "I have no idea what my feeling would be like, being away from the game for three years. It was like a proud moment, man. I was so excited for him when he got on the court and he checked in — and his first basket he gets a dunk. Can you write it any better? Obviously he's not where he wants to be, but the process is going great."
Copyright AP - Associated Press