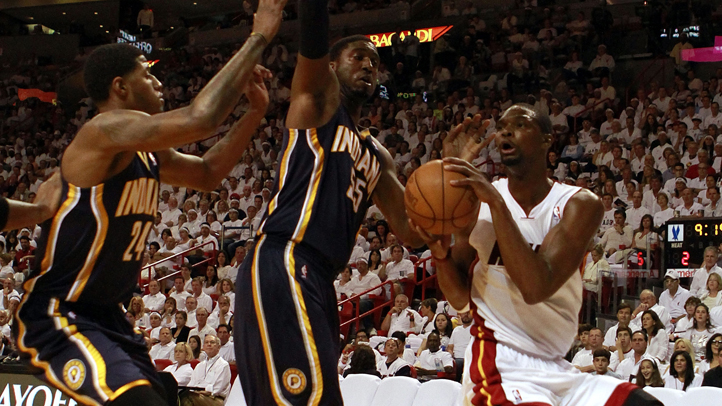 The Miami Heat say Chris Bosh will be sidelined indefinitely because of a strained abdominal muscle.

An MRI exam performed Monday confirmed the diagnosis. Bosh was hurt late in the first half of the Heat's 95-86 victory over Indiana on Sunday in Game 1 of their Eastern Conference semifinal series. Going up for a dunk on Indiana's Roy Hibbert, Bosh appeared to pull a muscle and was slow to get up. On the next defensive series, he fell to the ground in pain, forcing the Heat to call a timeout when they got the ball back.
Bosh did not say how long he expects to be out of action, but did say "this season has to be extended for me to play again." That could be good news or bad news depending on your perspective.
Bosh has been the most maligned member of the Heat's Big Three since joining the team in 2010, but his performance is crucial to the Heat's fortunes. According to 82games.com, the four of the Heat's five most effective line-ups (as measured by point-differential per minute on the court) include Bosh.
On the other hand, Tom Haberstroh of ESPN noted Monday that the Heat outscored opponents by 17.8 points every 100 possessions during the regular season when Bosh sat on the bench and LeBron James and Dwyane Wade were on the court. However, a lot of those minutes (235 in total) came when opponents were resting starters, so that stat has to be taken with a grain of salt.

Game 2 of the series is Tuesday night. Bosh's minutes will likely be filled by Joel Anthony and Ronny Turiaf, both of whom played extended stretches Sunday after Bosh departed. Udonis Haslem could also see time at center, since he is the Heat's only big man that can even approach Bosh's mid-range shooting ability.
While the Heat will still be favored to win their series against Indiana without Bosh, they could run into trouble if they face the Boston Celtics in the Eastern Conference Finals. Last year in the playoffs, Bosh kept Boston PF Kevin Garnett largely at bay. It is not clear whether the Heat have anyone else capable of defending him, unless they start LeBron James at the power forward position instead of his usual small forward.
Copyright AP - Associated Press