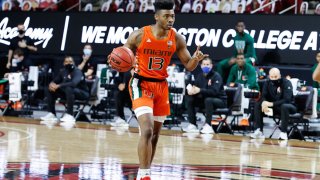 Guard Earl Timberlake, one of the most highly rated recruits in Miami Hurricanes history, entered the transfer portal Sunday after a freshman season cut short by a shoulder injury.
Timberlake played in just seven games and averaged 9.3 points for the Hurricanes, who endured an injury-riddled season and went 10-17.
Download our app for iOS or Android to get the latest forecasts on the hurricane season— and sign up for alerts.
Timberlake is from Washington, D.C., and averaged 16.5 points and 10 rebounds as a high school senior.
___
More AP college basketball: https://apnews.com/hub/Collegebasketball and https://twitter.com/AP_Top25
Copyright AP - Associated Press