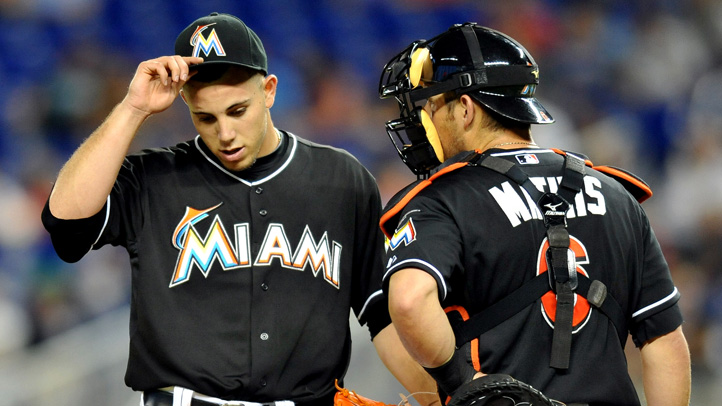 Miami Marlins pitcher Jose Fernandez caused quite a stir in his final start of the 2013 season when his behavior sparked a bench-clearing dust-up between the Marlins and the Atlanta Braves. Fernandez' manager said Thursday that Fernandez needs to examine his on-field antics so that an incident like that does not happen again.
"Jose is an emotional guy," Redmond said. "That's part of his game that is going to improve. We don't want to take the 'having fun' aspect away from him. That's what makes him him. But at the same time, I think maybe he can center that a little bit. ... That might be a part of his game he needs to look at, and maybe try to do something different."
Fernandez apologized after the game, in which he allowed one run over 7 innings in addition to hitting his first career home run (which sparked the confrontation). It was his final start of the season, as it pushed him above the 170-inning threshold which the Marlins' front office set for the 21-year-old Fernandez.
Fernandez finished the season with a 12-6 record, 2.19 ERA, and 187 strikeouts over 172 and 2/3 innings. He tied Hideo Nomo for the best opponents' batting average by an rookie pitcher (.182) since 1900, putting him neck-and-neck with Dodgers outfielder in the NL Rookie of the Year race.
"He's going to be one of the top pitchers in this league for a long time," Redmond added. "But you want your players to be judged for the way they compete, not for the theatrics."
Most of Fernandez' teammates agreed that he went too far when he admired his home run and appeared to spit towards third base during his home run trot.
"Jose is a great pitcher, he is very competitive, but he let this one get out of hand," closer Steve Cishek said. "He's going to learn from it. I can pretty much guarantee it will never happen again, the way he is. He's a good kid."
But first baseman Logan Morrison told MLB.com Thursday that the Braves deserve some of the blame for escalating the situation prior to Fernandez' home run.
"I didn't realize the full effect of what happened last night," Morrison said. "Jose needs to calm it down still, but I don't feel he is fully in the wrong with what he did. I feel like they did some things to him that went unnoticed that need to be addressed and will be addressed. I don't think Jose should have been sold out the way he was sold out."
When Atlanta's Evan Gattis hit a solo home run off Fernandez in the top of the sixth inning, he stared at Fernandez briefly before beginning his trot around the bases. Atlanta third baseman Chris Johnson also mouthed "Nope" directly at Fernandez when a pitch to him sailed high during the same inning.
It was Johnson who sprinted towards home plate, positioned himself behind an umpire, and began yelling at Fernandez after Fernandez' home run trot.
Fernandez, for his part, is ready to move on. "I'm going to keep being who I am," he told MLB.com. "It was a little mistake yesterday. I talked to some of the players I needed to apologize to, McCann and Minor."
"I think everything is good. I'm going to keep doing what I do, and hopefully, I get better."
Copyright AP - Associated Press