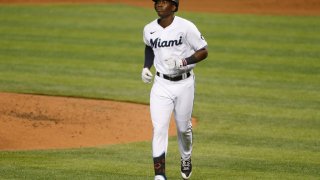 The Miami Marlins have placed outfielder Jésus Sánchez on the injured list ahead of the team's face-off against the Philadelphia Phillies.
The Marlins made the roster update in a Twitter post.
Craig Mish, an MLB Network contributor, tweeted that the Marlins would have to make a Covid-related move prior to the doubleheader. He added that the announcement of Sánchez on the injured list came with no designation.
Stay informed about local news and weather. Get the NBC 6 South Florida app for iOS or Android and pick your alerts.