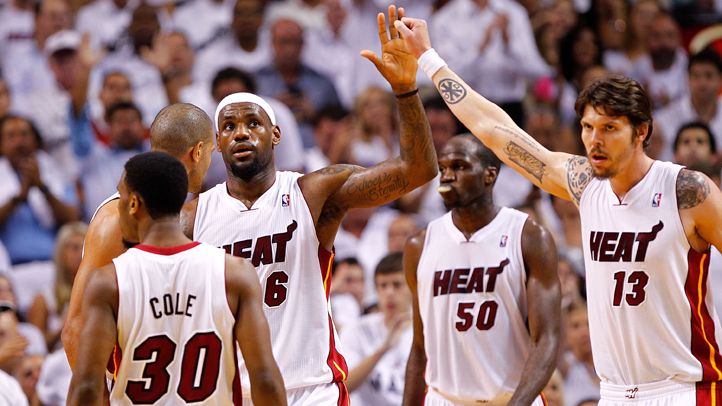 Shane Battier held his annual "South Beach Battioke Celebrity Karaoke Contest," a fundraiser for The Battier Take Charge Foundation. As was the case last year, when Heat President Pat Riley sang "My Girl" by The Temptations, Battier's world-famous bosses and teammates took the mic to help out, and some of the results are popping up on YouTube today.
The first video to surface is of Heat swingman Mike Miller and center Chris "Birdman" Andersen, the newest member of the team, performing the Vanilla Ice classic "Ice Ice Baby" as a duet. Watch the video below, via Heat blog Hot Hot Hoops.
Miller spits out the lyrics like he's done this before, barely looking at the karaoke screen for guidance (Andersen, meanwhile, rarely took his eyes of the lyric screen). He makes up for whatever the two lack in stage presence with an enormous dollar-sign medallion, though.
All in all, not a bad first go-around for Andersen. Surely more practices with the team will help him feel more comfortable in coach Erik Spoelstra's karaoke double-team sets.
According to the team's Instagram page, other performances included Ray Allen and his wife singing Michael Jackson's "I Just Can't Stop Loving You," Norris Cole singing "Word Up" by Cameo, and LeBron James singing MJ's "Rock With You." James and Dwyane Wade performed a duet of their own, crooning Shai's "If I Ever Fall in Love."
Watch James sing "Rock With You," followed by his duet with Wade, below:
The Battier Take Charge Foundation goal is to encourage and inspire a new generation of potential leaders through educational opportunities and the cultivation of effective leadership skills. The foundation provides resources for the development and education of underserved youth and teens.