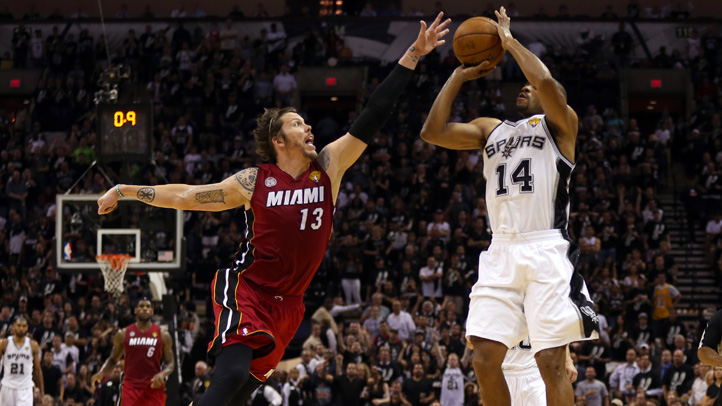 Former Miami Heat guard Mike Miller lost $1.7 million in a scam last year, and is considering a lawsuit against the team for its role in introducing him to the con artist at the center of the scam.
According to a complaint obtained by the Miami Herald, former Heat vice president of sales Stephen Weber introduced Miller to Haider Zafar, an impostor posing as a member of a wealthy Pakistani family and known as the South Beach "bling king." Miller gave Zafar $2 million to invest in a private fund that turned out to be nonexistent.
Zafar ended up keeping $1.7 million of that money, and used $700,000 of it to buy Heat courtside tickets. According to Miller's complaint, Weber told Miller that Zafar was "the real deal."
Millers suit argues that Weber and the Heat bear at least some responsibility for introducing him to Zafar. "Prior to introducing Zafar to Miller and prior to representing that Zafar was a suitable business and investment partner, the Heat... and Weber had a duty to fully investigate whether that patron was, in fact, a suitable partner," the complaint reads.
Zafar is currently awaiting trial in an Ohio prison for an unrelated case. Miller had originally asked the Heat for the $700,000 spent on Heat tickets plus attorney's fees, but could ask for the entire $1.7 million if he goes forward with the suit.
Miller's attorney, Andrew Fine, told the Herald Miller "has good feelings for the organization. He just feels like they should accept their share of responsibility for this situation."
The Heat, Weber, and the team's licensing company are named as defendants in the complaint. Heat outside counsel Alan Fein told the Herald, "We were distressed to learn that the Heat and the members of the Heat family were victimized by an elaborate fraud conducted by an individual currently in custody in Ohio. We continue to remain in constant contact with the appropriate federal authorities investigating this fraud."
Heat forwards James Jones and Rashard Lewis were also victims of Zafar, but neither is considering a suit against the team, according to the Herald.