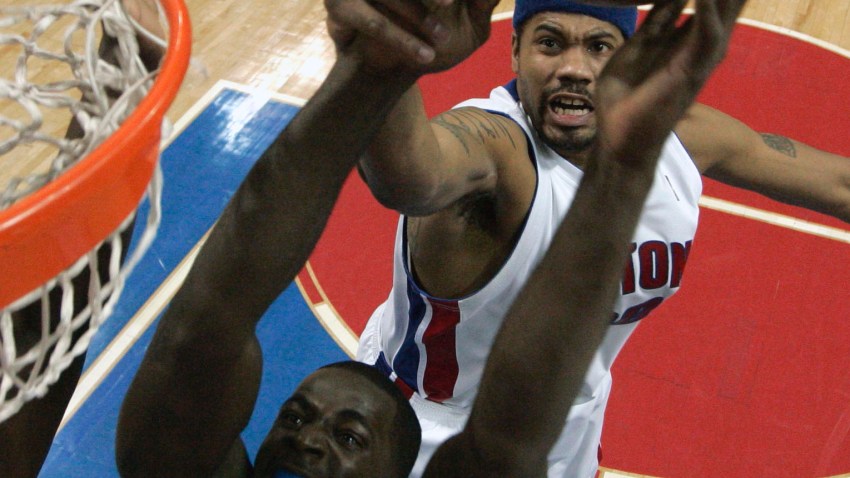 The Dallas Mavericks hit back after their worst loss of the season to trounce the Detroit Pistons 112-91 in the NBA on Friday.
Dirk Nowitzki scored 26 points and Josh Howard added 22 as Dallas responded to the 133-99 loss to Milwaukee on Wednesday.
Brandon Bass added a season-high 18 points, and Jason Kidd had 11 points and 10 assists for Dallas. Richard Hamilton, coming off the bench for just the second time in his Detroit career, led the Pistons with 17 points.
Spurs 94, Nets 91
In San Antonio, Michael Finley hit a pivotal 3-pointer with 23 seconds left to give San Antonio a narrow victory over New Jersey.
San Antonio's fourth straight win, combined with New Orleans' loss, put the Spurs two games clear atop the Southwest Division.
Tim Duncan had 30 points and 15 rebounds, a night after fans voted Duncan to his 10th straight All-Star start.
The Nets have lost five straight.
Hawks 117, Bucks 87
In Atlanta, the home side raced away to its biggest win of the season, thrashing Milwaukee.
Flip Murray scored a season-high 25 points and Josh Smith had 24 for the Hawks, who shot 56 percent from the field to bring up a third straight victory.
Cavaliers 106, Warriors 105
In Oakland, California, LeBron James knocked down a 19-foot shot to barely beat the final buzzer and give Cleveland a thrilling victory over Golden State.
James finished with 32 points, nine rebounds and eight assists, but also missed four free throws in the final period, including one with 23 seconds to play.
Golden State had gone ahead with only six seconds left, but lost on the buzzer for the second straight game.
Pacers 107, Rockets 102
In Indianapolis, Danny Granger scored 25 points to lead Indiana over Houston.
T.J. Ford added 21 for the Pacers, and Troy Murphy had 14 points and 16 rebounds.
Houston center Yao Ming left the game with a sore right knee and did not play in the second half.
Bobcats 98, Suns 76
In Charlotte, North Carolina, Boris Diaw dominated Phoenix a month after being traded by the Suns, scoring 26 points and grabbing 11 rebounds to lead Charlotte to victory.
It was Charlotte's fifth win in six games.
Timberwolves 116, Hornets 108
In Minneapolis, Al Jefferson had 24 points and 14 rebounds to lead Minnesota over New Orleans.
Randy Foye had 24 points and eight assists for the Timberwolves.
James Posey tied a career high with seven 3-pointers for New Orleans.
Raptors 114, Bulls 94
In Chicago, Toronto snapped a seven-game losing streak with a comfortable win over Chicago.
Jose Calderon had 23 points on 9-of-10 shooting and added 10 assists in his return from a hamstring strain. He went 4-for-4 from the line and has made 83 straight free throws dating to last season, the second-longest streak in NBA history. Michael Williams holds the record, making 97 in a row for Minnesota in 1993.
The Bulls have lost four straight.
Knicks 108, Grizzlies 88
In New York, Memphis slid to an eighth straight loss the day after firing its coach, beaten by New York.
David Lee had 19 points and 14 rebounds to lead the Knicks to their third successive win.
Assistant Johnny Davis directed the Grizzlies as an interim coach after having ditched Marc Iavaroni. Lionel Hollins is working on a contract with Memphis to serve as head coach for the third time — the first time without the interim label.
Clippers 107, Thunder 104
In Los Angeles, rookie Eric Gordon scored a season-high 41 points to lead Los Angeles to a tight win over Oklahoma City.
Al Thornton had a season-high 34 for the Clippers.
Kevin Durant had a career night, too, for Oklahoma City, finishing with a career-best 46 points and 15 rebounds.

Copyright AP - Associated Press