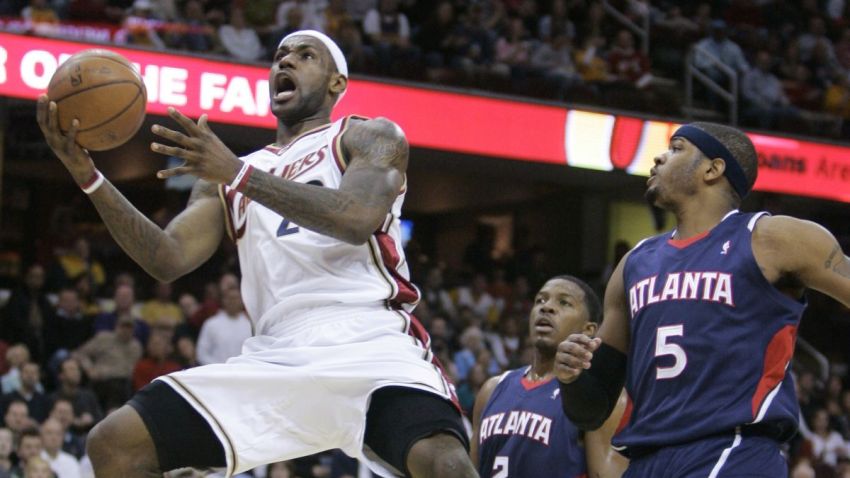 CLEVELAND — Mo Williams scored 24 points, LeBron James added 22 and the Cleveland Cavaliers rolled to their eighth straight win by 102-96 over the Atlanta Hawks in the NBA on Saturday.

The loss snapped the Hawks' seven-game winning streak and coach Mike Woodson was ejected in the third quarter.

The Cavaliers improved to 32-1 at home and have the best win-loss record in the league at 56-13.

Lithuania's Zydrunas Ilgauskas passed the 10,000 career point mark in the first period when he hit two foul shots. He scored 16 points.

Joe Johnson led Atlanta with 24 points.
Lakers 117, Bulls 109

At Chicago, Kobe Bryant scored 28 points and Pau Gasol added 23 as Los Angeles rallied to beat Chicago in the first of a season-high, seven-game trip.

The Lakers trailed by 16 in the second quarter and 14 at the half, but came roaring back in the third, pulling within one. They tied it early in the fourth, then took the lead with a 14-0 run that made it 106-93.

Gasol grabbed 10 rebounds as the Lakers earned their fifth victory in six games. Trevor Ariza scored 18 points, Lamar Odom added 16 and Jordan Farmar had eight of his 13 in the decisive run.

John Salmons scored 30 and Derrick Rose 25 for the Bulls, who had tied a season high with three straight wins, but their luck ended against the Western Conference leaders. So did their seven-game home win streak.
Suns 128, Wizards 96

At Phoenix, Jason Richardson scored 17 of his season-high 35 points in the third quarter as Phoenix extended its winning streak to a season-high four games by beating Washington.

Shaquille O'Neal scored 13 to pass Moses Malone as the No. 5 scorer in NBA history with 27,411 points. He also finished with 10 rebounds.

Steve Nash added 17 points for the Suns, who pulled with 3½ games of idle Dallas for the eighth and final playoff spot in the West with 13 to play. Stromile Swift had 10 points and 12 rebounds in his best game since joining Phoenix on March 4.

Antawn Jamison scored 25 as the Wizards completed a winless four-game, five-day trip west.
Celtics 105, Grizzlies 87

At Memphis, Tennessee, Glen Davis scored a career-high 24 points on 8-of-11 shooting as Boston pulled away in the second half to beat Memphis.

Ray Allen added 20 points and six assists, while Eddie House contributed 15 points as the Celtics won their third straight overall and fifth in a row over the Grizzlies.

Kevin Garnett, still playing limited minutes in his second game back from a right knee injury, scored 10 points and grabbed four rebounds in 17 minutes. Paul Pierce, Boston's leading scorer with 20.5 points per game, was limited to six on 2-of-6 shooting.

Hakim Warrick scored 20 points for Memphis, which dropped its sixth straight at home and fourth in a row overall. Rudy Gay finished with 15 points on just 5-of-15 shooting, while O.J. Mayo and Mike Conley scored 12 apiece.
Pacers 108, Bobcats 83

At Charlotte, North Carolina, Jarrett Jack scored 31 points a night after being benched following a dispute with a teammate as Indiana dominated Charlotte to snap a five-game losing streak.

Jack hit 13 of 14 shots, all four free throws and added six rebounds as the Pacers had their best performance in weeks and shook off Friday's incident that saw Jack get into a heated argument with T.J. Ford in a loss to Dallas.

Danny Granger added 21 points and Brandon Rush scored 15 for Indiana, which outscored Charlotte 33-9 in the third quarter.

Boris Diaw scored 15 points in a brutal performance by the Bobcats, who had their three-game winning streak snapped and their playoff hopes take a hit.
Magic 110, Knicks 103

At Orlando, Florida, Rashard Lewis scored 27 points and Hedo Turkoglu added 20 as surging Orlando nearly blew a 15-point lead before holding off New York.

Rafer Alston had 17 points, and Dwight Howard battled foul trouble to score 15 for the Magic, who have won nine of their last 11 games. The win kept Orlando (51-18) tied in the loss column with Boston for the Eastern Conference's second-best record behind Cleveland.

Quentin Richardson scored 33 points, and Nate Robinson added 27 for New York (28-41), which has lost four straight games and was dealt another crushing blow to its already grim playoff hopes.
Trail Blazers 96, Bucks 84

At Milwaukee, Brandon Roy scored 30 points to lead Portland over Milwaukee.

Steve Blake added 21 and tied his season high with six 3-pointers as Portland, playing its fifth game in seven nights, came alive in the second half. The Trail Blazers finished their five-game road trip with a 3-2 mark and some momentum as they look to move up from their seventh spot in the Western Conference playoff scramble.

Charlie Villanueva scored 26 points for Milwaukee, which finished a six-game homestand with a 2-4 mark.

Copyright AP - Associated Press