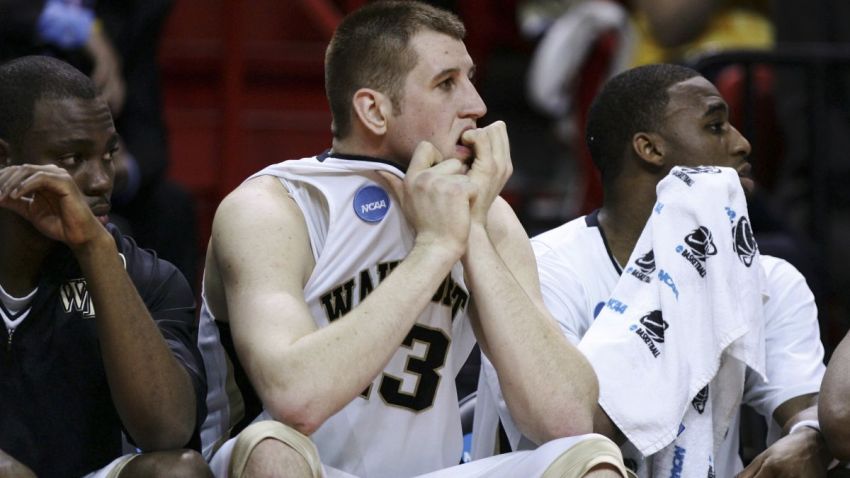 BOISE, Idaho — Lazar Hayward scored 26 points and Marquette made 10 straight free throws near the end to beat Utah State 58-57 in the first round of the NCAA college basketball championship on Friday.

Jerel McNeal and Wesley Matthews each scored 14 points for sixth-seeded Marquette, which blew a 14-point lead before rallying from a six-point deficit to win in the West Regional.

Jared Quayle led Utah State with 18 points.
Missouri 78, Cornell 59

DeMarre Carroll scored all but two of his 13 points in the second half to help third-seeded Missouri, the Big 12 champion, pull away from plucky Cornell. Missouri, back in the NCAAs after a six-year absence, will face Marquette in the second round.
Midwest Regional
Siena 74, Ohio State 72

Ronald Moore hit a 3-pointer with 3.9 seconds left in the second overtime — from the identical spot he made one at the end of the first OT — as Siena edged Ohio State.
Louisville 74, Morehead St. 54

Louisville had a few early missteps, but uncoiled its full-court press in the second half and rolled to an easy victory over Morehead State, giving No. 1 seeds a 100-0 record against No. 16s since the tournament expanded in 1985.
Kansas 84, North Dakota State 74

Sherron Collins scored a season-high 32 points and went toe-to-toe with NDSU star Ben Woodside, who scored 37, while Cole Aldrich had 23 points to lead the defending NCAA champions.
Cleveland State 84, Wake Forest 69

Cleveland State raced to an early 17-point lead and stunned one-time No. 1-ranked Wake Forest.

Norris Cole scored 22 points for the Vikings, who committed only six turnovers to 18 for Wake Forest.
Arizona 84, Utah 71

Nic Wise scored 21 of his 29 points in the second half, Chase Budinger added 20 and 12th-seeded Arizona reached the second round for the first time since 2006.
Southern Cal 72, Boston College 55

Taj Gibson had 24 points on 10-for-10 shooting from the field for Pac-10 champion USC. Gibson's perfect shooting was the second-best performance in tournament history with a minimum 10 attempts, behind Kentucky's Kenny Walker and his 11-for-11 in 1986. Gibson matched Marvin Barnes of Providence in 1973 and Christian Laettner of Duke from 1992.
Dayton 68, West Virginia 60

Chris Wright scored a career-high 27 points to lead 11th-seeded Dayton to its first victory in the tournament in 19 years.Michigan State 77, Robert Morris 62

Raymar Morgan scored 16 points and Goran Suton had 11 points and 17 rebounds as Michigan State bullied Robert Morris.

Draymond Green added 16 points for the second-seeded Spartans.
South Regional
Syracuse 59, Stephen F. Austin 44

Jonny Flynn scored 16 points, Rick Jackson and Arinze Onuaku each added 12 as third-seeded Syracuse cruised past NCAA first-timer Stephen F. Austin.
Arizona State 66, Temple 57

James Harden's only basket, a 3-pointer with 4:02 left, helped Arizona State hold off Temple and reach 25 wins for the first time since 1975.
East Regional
Pittsburgh 72, East Tennessee St 62

DeJuan Blair had 27 points and 16 rebounds as Pittsburgh, playing its first game as a top seed, survived a frightful 40 minutes from East Tennessee State. The Panthers made 18 turnovers, struggled with ETSU's end-to-end press and hardly looked like potential national champions.
Oklahoma St. 77, Tennessee 75

Byron Eaton found a clear path to the basket for a three-point play with 7.2 seconds left, sending Oklahoma State to a scintillating victory over Tennessee.
Wisconsin 61, Florida State 59

Trevon Hughes banked in a spinning shot over two defenders for a three-point play with 2 seconds left in overtime to lift Wisconsin into the second round.
Xavier 77, Portland St. 59

C.J. Anderson scored 14 points and Xavier shot 54 percent from the field to reach the second round for the third straight year.

Copyright AP - Associated Press