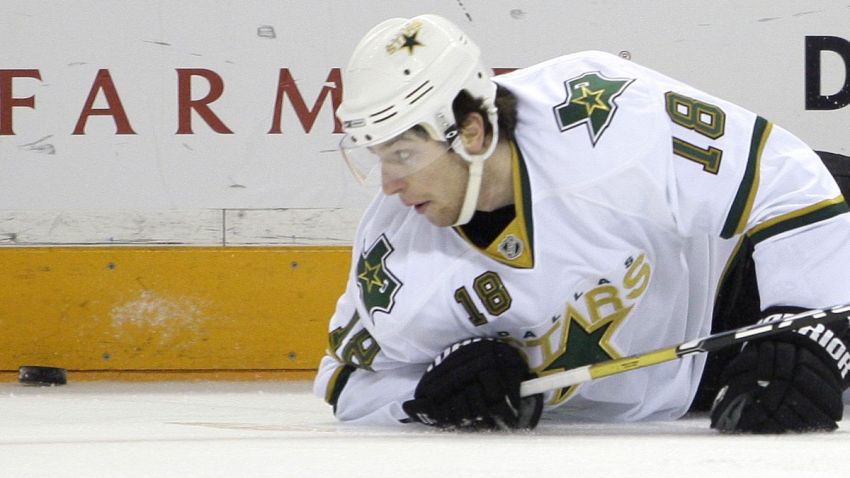 SAN JOSE, California — Beating the Dallas Stars 5-2 gave the San Jose Sharks consecutive wins for just the second time in nearly four weeks, pulling them within a point of Detroit for the overall NHL lead on Saturday.

For the Sharks, Joe Pavelski had a goal and two assists, Joe Thornton and Milan Michalek also scored, Evgeni Nabokov made 23 saves, Devin Setoguchi had a goal and an assist, and captain Patrick Marleau added an empty-netter.

The Sharks won for the fifth time in six meetings with the Stars, who knocked them out of the playoffs in the second round last spring.

Loui Eriksson scored his 33rd goal for the Stars, who went winless on their three-game road trip. Stephane Robidas also scored.
Rangers 5, Sabres 3

At New York, former Buffalo captain Chris Drury scored during New York's three-goal second period that carried the Rangers past the sliding Sabres.

Ryan Callahan and Nikolai Zherdev added goals in the decisive middle frame after Markus Naslund staked the Rangers to a 1-0 lead in the first. New York won its third straight and moved eight points ahead of 10th-place Buffalo.

Henrik Lundqvist made 37 saves, and Callahan sealed the win by scoring an empty-netter with 24.8 seconds left.

Daniel Paille, Clarke MacArthur and Toni Lydman scored for Buffalo.
Hurricanes 4, Capitals 1

At Raleigh, North Carolina, Cam Ward made 31 saves, and Rod Brind'Amour and defensemen Joni Pitkanen, Anton Babchuk and Joe Corvo scored for Carolina.

Carolina extended its home winning streak to eight games, the Hurricanes' longest home streak since their Stanley Cup championship season in 2005-06.

Mike Green scored for Washington. He leads NHL defensemen with 28 goals.
Maple Leafs 5, Canadiens 2

At Montreal, Alexei Ponikarovsky had two goals and two assists to help Toronto beat struggling Montreal.

Ponikarovsky's line combined for 11 points. Mikhail Grabovski had a goal and three assists — including one on Jason Blake's 25th goal in the third — and Nikolai Kulemin had a goal and two assists.

Maxim Lapierre scored twice for Montreal in a 2:32 span of the third.
Coyotes 5, Canucks 1

At Glendale, Arizona, Ilya Bryzgalov stopped 34 shots, and Shane Doan scored his 27th goal in Phoenix's victory over Vancouver.

Daniel Winnik, Ed Jovanovski, Viktor Tikhonov and Matthew Lombardi added goals in Phoenix's highest-scoring game since beating Los Angeles 6-3 on Feb. 21. The four-goal margin was the largest for Phoenix this season.

Bryzgalov lost the shutout when Alex Burrows scored with 1:45 left. The Canucks lost in regulation for the second time in their last 11 games.
Thrashers 4, Lightning 3, SO

At Tampa, Florida, Slava Kozlov scored the only shootout goal, and Atlanta goalie Johan Hedberg stopped all three Tampa Bay tries in the tiebreaker.

Kozlov, Ilya Kovalchuk and Todd White each had a goal and an assist in regulation for the Thrashers, who have won seven of their last nine games.

Hedberg improved Atlanta's shootout record to 6-1, stopping attempts by Steven Stamkos, Vinny Lecavalier and Martin St. Louis.
Blue Jackets 3, Panthers 1

At Sunrise, Florida, Raffi Torres tied it with 2:46 remaining and put Columbus ahead of Florida with 1:33 left.

Steve Mason made 22 saves and Antoine Vermette added an empty-net goal for Columbus, in position to make the playoffs for the first time.

Rostislav Olesz scored for Florida, which lost for the fifth time in six games. The Panthers remained ninth in the Eastern Conference, a point behind Montreal.
Senators 5, Islanders 2

At Ottawa, Chris Neil, Filip Kuba, Mike Fisher, Dany Heatley and Nick Foligno scored to help Ottawa beat New York for its seventh straight home win.

Brian Elliott made 20 saves, and Daniel Alfredsson and Brendan Bell had three assists each for Ottawa. The Senators improved to 31-30-10, the first time they've been above .500 since Nov. 6. Josh Bailey scored twice in the third period for New York.

Copyright AP - Associated Press