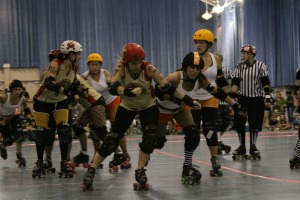 If you topped Kansas City Bomber ("The Hottest Thing on Wheels!") with Whip It, added a Riot Grrl soundtrack, then placed the ensuing mix in polyglot South Florida, you might come up with something like the Gold Coast Derby Grrls. Of course in lieu of Raquel Welch's K.C. Carr and Drew Barrymore's Smashley Simpson, you'd get the likes of Carnivorous Licks, Lucy Lunatic and Tsunami Tsue, but that would be more than enough thrill. This Friday night, at BankUnited Center, the Gold Coast Derby Grrls face the Gainesville Roller Rebels. See. You. There.

For those who don't yet know, who are the Gold Coast Derby Girls? We are South Florida's only all female full contact Women's Flat Track Derby Association (WFTDA) team. We were founded in 2007 and have been part of the Association for six months. We are based out of Broward, but we are a tri-county team, with members from Miami-Dade, Broward, and the Palm Beaches, including Jess Business, Spontaneous Combustya and Freek-a-Rella (blockers), Lucy Lunatic and Tsunami Tsue (jammers) and me, Carnivorous Licks (I'm a blocker too).

Word is GCDG is ranked among the Top 10 -- that so? Yes! We are ranked #9 in the South Central Region. It's actually pretty crazy since we have only been with WFTDA for six months (we are the only team to ever do it that quickly). We worked very hard to be part of WFTDA: we skated against the best teams we could find and learned as much as possible to come out from a nobody team to the first league to ever be invited to Regionals in their first year.

Didn't your home base recently get shut down? Sadly, yes. Gold Coast Roller Rink closed it's doors after 47 years and is being torn down as we speak.

Where does that leave the Derby Girls? We have started skating at Kabooms in Davie, so now we are back to schedule, preparing for the Regionals. We understand it's going to be hard, but we are going to give it all we have.

Could you please give us the details on Friday's match? We were invited by BankUnited to come skate at their venue, and knowing the Hurricanes/Gators rivalry we got Gainesville to come. This is a special event being priced specifically for students and faculty with tickets at $10, General Admission for non-students/faculty at $13. Doors open at 7, the game starts at 8 and tickets can be purchased through Ticketmaster.

Where does GCDG go from there? We move forward as always. Our season will end in October when we travel to Colorado -- unless, of course, we really pull it out and go to the Championships. Then we'll form home teams and skate for our fans and ourselves without the pressure of rankings, and train as much as we can to get started on next year.

So this next bout is incredibly important, not just for the standings but for the future of the GCDGs themselves, right? Yes! We are hoping to pack BUC and not only make history in the largest crown to have seen derby in almost three decades, but also to help us financially. We are non-profit and pay for our all travel through fundraising and bouts, so this event could really help us secure our future for next year. We have so many talented skaters right now and it's going to be even better next year. Traveling out of state is MANDATORY to be in WFTDA; you cannot just skate in Florida, so if we don't have the funds we can't travel.
Gold Coast Derby Grrls vs Gainesville Roller Rebels Friday September 16, 7pm at BankUnited Center Tickets can be purchased here.