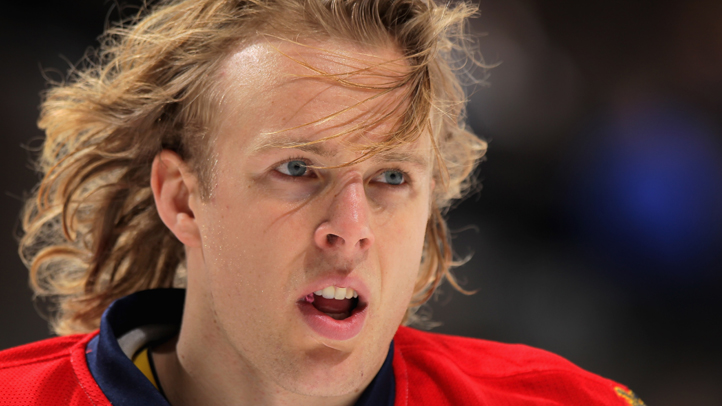 A week after firing head coach Kevin Dineen, Florida Panthers general manager Dale Tallon has made another big move. On Thursday night he traded forwards Kris Versteeg and Philippe Lefebvre to the Chicago Blackhawks in exchange for forward Jimmy Hayes and defenseman Dylan Olsen.
"We are pleased to welcome both Jimmy and Dylan to the Panthers," Tallon in a statement released by the team. "Jimmy is a young, strong, hardworking, versatile forward who brings both size and skill to our team. Dylan, a former first round draft pick, is a young, solid defenseman who adds further depth to our blue line.
"We thank Kris for his contributions to the Panthers, including helping us win 2011-2012 Southeast Division Championship, and wish him the best of luck in his return to Chicago."
Olsen and Hayes are 22 and 23 years old, respectively. Hayes has appeared in two games for Chicago this season, and recorded 8 points in 13 games with Rockford of the AHL earlier this season. Olsen has 8 assists in 18 games with Rockford.
The trade is a homecoming of sorts for Versteeg, whom spent his first three-plus seasons in Chicago before being traded to Philadelphia in 2011. The Panthers acquired him in a trade during the 2011 offseason.
In two-plus seasons in Florida, Versteeg scored 25 goals with 38 assists, appearing in 99 games. He missed most of the 2012-13 season due to a torn ACL.
According to the Miami Herald, the Panthers will pay half of Versteeg's $4.6 million salary this season. He has two more full seasons on his contract remaining.
The Panthers play at the Minnesota Wild Friday night.