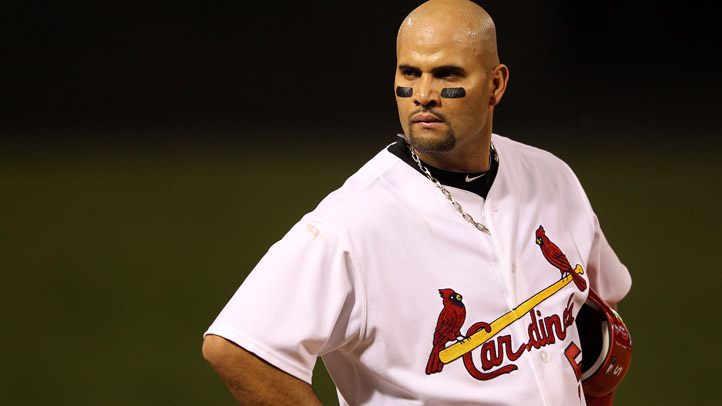 Having already signed closer Heath Bell and shortstop Jose Reyes to big contracts this offseason, the Miami Marlins are targeting the most prominent free agent on the market: Albert Pujols.

ESPN reported Tuesday that the team has extended a 10-year offer to the Cardinals' first baseman. It is not known how much the Marlins are willing to pay for Pujols, who turned down a 9-year, $195 million contract extension from St. Louis before the 2011 season.

Florida was rumored to offer a 9-year deal for less money to Pujols in November. Besides the money, another sticking point in negotiations is likely to be a no-trade clause. Pujols wants one, but the Marlins are extremely loathe to give one to just about anybody.

Reyes' six-year deal is reported to not include such a clause, even though he too was seeking one.

If the Marlins can pull this one off, they will have a Big Three of Pujols, Reyes, and shortstop Hanley Ramirez that rivals that of the crosstown Miami Heat.

Signing Pujols could also put an end to the team's efforts to bolster their starting rotation. Pitchers C.J. Wilson and Mark Buehrle have both been courted by the team, but the Marlins are making less headway in the negotiations with either than they are with Pujols, apparently.

There is a very real possibility that Pujols and his agent, Dan Lazano, are using the Marlins' offer as leverage with the St. Louis Cardinals. Pujols has spent his entire career in St. Louis, and it is not a huge leap of faith to think that he may want to stay there, where his legend rivals that of Stan Musial.

Regardless, the Marlins' signings of Bell and Reyes prove that the courting of Pujols is no ploy for attention. With revenues expected to jump after opening their new stadium in April, the team is prepared to shell out the big bucks in order to put a serious contender on the field.

With or without Pujols, the Marlins will be much more exciting to follow in 2012.