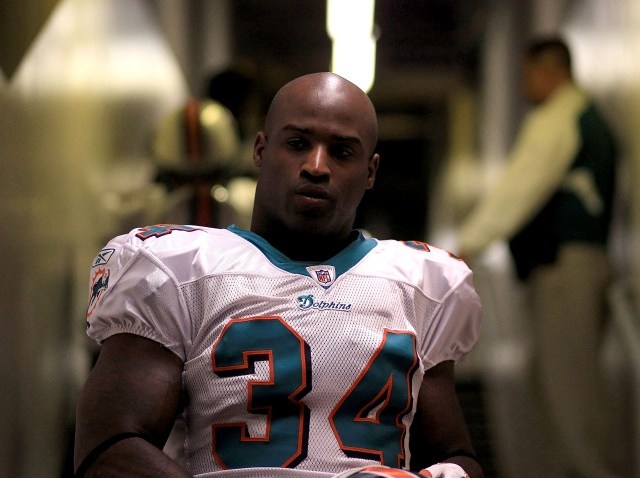 Ricky Williams has retired from professional football, and it looks like this retirement (unlike his abrupt departure before the 2004 season) will stick. The Baltimore Ravens RB announced his retirement Tuesday,
saying on his website
he plans to devote more time to his charitable foundation.
A Heisman Trophy winner at the University of Texas, Williams was a 1999 first round pick of the New Orleans Saints, who famously traded their entire allotment of draft picks (as well as two picks the next year) in order to move up in the first round to select Williams with the fifth pick.
He only lasted three subpar years in New Orleans before being traded to Miami, where his career blossomed. Williams led the NFL in rushing in 2002, his first season in Miami, but the Dolphins could not make the playoffs despite his posting the two most productive rushing seasons in Dolphins history (1,853 yards in 2002, 1,372 yards in 2003).
Having been overworked by the Dolphins and facing a four-game suspension for violating the league's drug policy, Williams abruptly retired before the 2004 season. He spent part of the next year traveling the world and living in California, far from the uproar left in his wake in Miami.
He returned to the NFL in 2005, but spent the 2006 season with Toronto of the Canadian Football League while serving a year-long suspension for violating the NFL's drug policy again.
But Williams found new life after quitting his infamous marijuana habit and taking an interest in Eastern medicine. Around the same time, the Dolphins teamed him up with RB Ronnie Brown and installed the Wildcat offense, under which both thrived. Williams posted a 1,000-yard season in 2009, and manage to transform himself from a pariah in Miami to beloved player.
Williams signed a free agent contract with the Ravens last August, and nearly went to his first Super Bowl with the team, reaching the AFC Championship but falling against the New England Patriots.
"Being around him this year is the best thing that happened to me in my NFL career," said the Ravens' Ray Rice, whom Williams backed up in Baltimore. "I had the best year with him beside me, and that was no accident."
In an official statement, Williams said, "The NFL has been an amazing page in this chapter of my life. I pray that all successive ventures offer me the same potential for growth, success, and most importantly, fun. As for what's next, I'm excited about all the opportunities ahead – continuing my education, running the Ricky Williams Foundation, whatever opportunities present themselves.
In an interview on
560 WQAM's Sid Rosenberg Show
, Williams told Rosenberg that it was none other than former Dolphins president Bill Parcells who first suggested the idea of retiring. Exchanging text messages after the Ravens' playoff loss, Parcells told Williams he may not want to keep trying to win a Super Bowl as a player, "because you can contribute in other ways."
Williams said after the conversation, he made a list of reasons why and people for whom he was still playing football, and realized he wasn't on the list. The decision to retire came shortly thereafter. "I checked my bank account to see if that was realistic, and it was," he added.
Of course, neither Williams nor Parcells have a track record of actually staying retired (The pair have now combined for no less than four retirements between them). But at 34 years old (practically ancient for a running back), this retirement has a better chance at taking hold.
Williams may not ever get a spot in the Dolphins' Ring of Honor, but he will go down as perhaps the most interesting player in Dolphins history. Few in sports have ever gone from embraced to hated back to embraced over such a short period. The NFL will be a less interesting league without Williams on the field.
Copyright AP - Associated Press