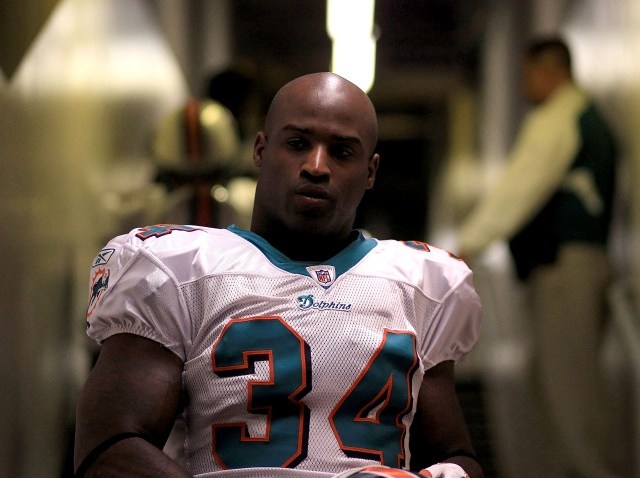 The legend of Ricky Williams continues to grow, even after the former Miami Dolphins running back retired. On Wednesday, Williams' old Dolphins teammate said the most notorious former marijuana smoker in the NFL frequently used to smoke before games.
"Remember that Buffalo game, the 200-yard game?" Channing Crowder said on his WQAM radio show. "Smoked the night before. Talk to Ricky. He was doing it, that's what he did." (Text via NBCSports' ProFootballTalk).
Williams rushed for 228 yards on 27 carries in that 2002 game, when the Dolphins fell to the Bills 38-21. According to Crowder, Williams used marijuana to help alleviate his own social anxiety.
"Ricky has social anxiety and he smoked weed. Ricky's marijuana didn't affect the team until he got caught smoking," he said. "Him smoking weed, sitting at his house smoking weed, didn't affect anybody but Ricky. He got high and then he sobered up and then he went to practice the next day."
Crowder's retelling of events does spark one big question. The game against the Buffalo Bills he spoke of was played on December 1, 2002, three years before Crowder joined the Dolphins. Either Crowder is retelling stories he heard from other Dolphins secondhand, or something Williams told him long after the incident.
In a tweet on Thursday Crowder backed away from his comments as he noted that he was a senior in high school when Williams had his big game against the Bills. "How would I know what he did b4 the game?" Crowder wrote.
Even Williams is skeptical. On Thursday, he tweeted, "What's all this talk about me smoking before games? I read the story and anyone who knows Channing is laughing because he is really funny."
Williams left the NFL before the 2004 season, shortly after the league issued him a four-game suspension for a positive marijuana test. His "retirement" lasted only a year, as he rejoined the Dolphins for the 2005 season. He played in the Canadian Football League in 2006 while serving a yearlong suspension for his fourth violation of the NFL's drug policy.
As ProFootballTalk notes, NFL players who have not entered into the league's substance abuse program are tested for marijuana only once a year, during the offseason. So it is indeed plausible that Williams could have been smoking during the 2002 season, but not during his comeback (when he was subject to much more frequent drug tests).
More Dolphins Stories on NBC6.com: