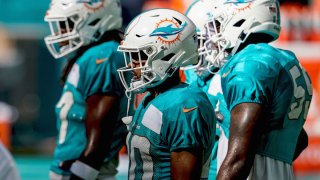 The Miami Dolphins took their show on the road Saturday for the first scrimmage inside Hard Rock Stadium - and NBC 6 sports anchor Ruthie Polinsky has all the latest, including one of the team's likely starters leaving following some heartbreaking news
PRACTICE NOTES
Quarterback Ryan Fitzpatrick was present pregame, but left the field after having a conversation with head coach Brian Flores. Flores told the media after the scrimmage that Fitzpatrick's mother passed away this morning. He attempted to practice with the team, but was ultimately unable to do so.
Flores was emotional with the media after the scrimmage, saying, "As a coach, as a friend, as a man, they're all intertwined in this game." Flores lost his mother last year, and expressed his sympathy and support for Fitzpatrick during this time. He did not comment on when Fitzpatrick would return to the team.
With Fitzpatrick absent, rookie quarterback Tua Tagovailoa and Josh Rosen got all of the reps. Each led different offenses, with both struggling to move the ball. Rosen threw the only touchdown of the day to Ricardo Louis to put Team Rosen up 10-6, which was the final score of the scrimmage.
Linebacker Raekwon McMillan and a 5th round pick were traded to the Las Vegas Raiders for 2021 fourth round pick.
Newcomers at linebacker Elandon Roberts and Kamu Gregi moved down on depth chart with addition of newcomers Elandon Roberts and Kamu Grugier-Hill.
Crowd noise was pumped into the stadium during the entirety of the scrimmage.
Defense played well with a lot of hands getting on the ball as cornerbacks Eric Rowe and Clayton Fejedelem each with an interception.
WHAT THEY SAID
From Flores' press conference:
On how the team looked during the scrimmage: "There's a lot – without preseason games – that's our first real look in a stadium, sideline operation, headsets, officials; so there's a lot to clean up I would say just from a coaching standpoint. So we got a little bit of that cleaned up from first half to second half – making adjustments on the sideline with the tablets. That's something we haven't been able to do, so to incorporate that going from series to series, that was good. On the field, I think we had some penalties out there. It's good to feel that defensively, offensively how they extend drives or kill drives in some instances; so the importance of trying to play penalty-free but also being aggressive and playing with good fundamentals, technique and discipline. So I think overall any time you get a live look or as close to the game as possible, it's good."
On a rough day for both Tagovailoa and Rosen: "I think it's hard to really — every game is a little bit different. So I think if you don't see a bunch of touchdowns scored, you feel like the quarterback is not playing well. That's not necessarily the case – my view, as well. Although, not in my – not in my opinion, I should say. So I have to go back and look at the film. I saw some good throws. I saw some good decisions to – could have thrown it in some tighter windows. Potential turnovers that guys didn't make the throw; but I've got to go watch the film, to be honest with you. I think when you don't see a bunch of touchdowns scored or big passes, you start to think the quarterback's not playing well. That's just not the case. Honestly, I thought those guys – I thought there was good communication. I thought we were in and out of the huddle. You know, turnovers were down; so those are the things that are important – give us a chance to keep the game tight. But I've got to watch the film."